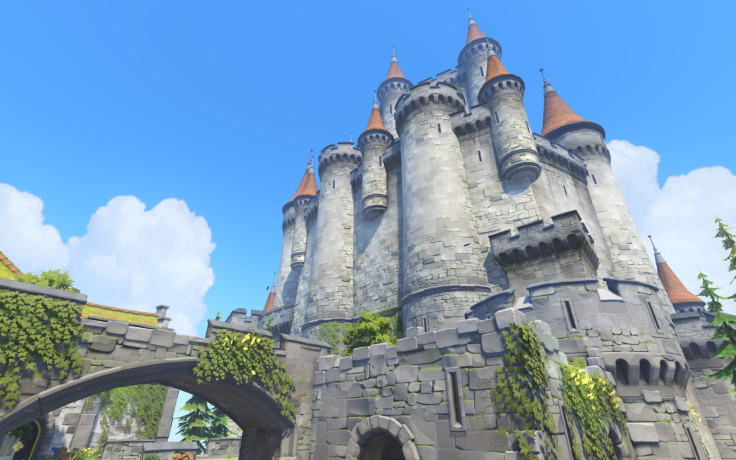 Blizzard Entertainment has unveiled a brand new castle-themed map titled "Eichenwalde" for Overwatch at the Gamescom convention in Cologne, Germany. Set in Stuttgart, Germany, the map will be the popular hero-based shooter's first free add-on map since its launch in May.
"The site of one of the most famous battles during the Omnic Crisis, it was here that the leader of the Crusaders, Balderich von Alder, and a handful of his best soldiers made a last stand against an advancing automaton army," the map's official description reads. "Outnumbered and outgunned, they were ultimately slain during the resulting combat. However, thanks to their valiant efforts, the German military was able to push back the omnic offensive and win the fight."
Featuring a picturesque castle and its lush neighbouring village and greenery, the brand new map will be an Assault/Escort hybrid where one team must battle to escort a battering ram to Eichenwalde Castle, while the other must try to defend it.
Blizzard has also revealed that Eichenwalde is the home of defensive robot hero Bastion, whose animated short will be released later this week.
The upcoming post-launch map, which will release in September, will be free for all players like all Overwatch DLC maps and characters.
Overwatch lead system designer Aaron Keller also described the middle part of the map as "very vertical" during Blizzard's live stream. Players must also cross a drawbridge at the end of the map that leads into the German castle. Principal designer Geogg Goodman also added that it was a particularly "great Widowmaker spot".
Meanwhile, fans are already trawling the map's preview trailer for Easter Eggs and potential clues as to where the developer plans to take its popular new IP.
Earlier this month, the multiplayer shooter crossed yet another milestone, topping 15 million players worldwide including "box and digital sales, internet game room players and multi-usser console households" since its launch on 24 May.
Overwatch is currently available for PS4, PC and Xbox One.