Bloodhound SSC: More delays for 1,000mph car but 2016 testing remains in sight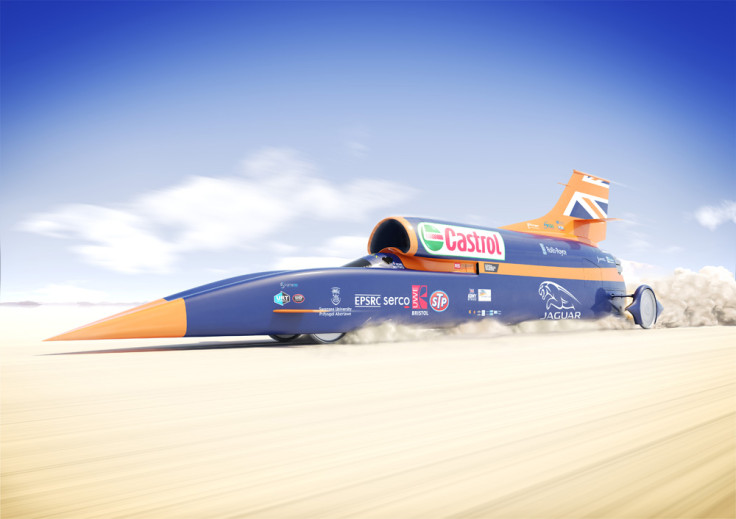 Bloodhound SSC, the supersonic car built to break the current world land-speed record and travel at more than 1,000 miles an hour, has been delayed again. The car is still set to run in 2016 as planned, but the schedule has been pushed back and an attempt to actually break the record would not happen until 2017.
The car's first public demonstration, which is intended to see the Bloodhound reaching 200mph on a runway in Newquay, has been pushed back from Easter 2016 to later in the year. An attempt to reach 800mph on the Hakskeen Pan in South Africa and break the current 763mph record has been delayed from 15 October to an unknown date in 2017. Bloodhound was originally intended to run in 2012, but technical setbacks caused delays in 2013 and 2015.
The latest setback means the Bloodhound cannot break the record on the 19th anniversary of its driver, RAF Wing Commander Andy Green, setting the current record. Delaying until the same date in 2017 is not out of the picture, however, but then an attempt at breaking the 1,000mph barrier could likely not happen until 2018.
Major funding deals not yet secured
Although the project, which was announced in 2008, has attracted a huge amount of publicity and saw a capacity crowd of 8,000 see the car at its public debut in London last year, some major funding deals are still being completed.
These need to be in place before the Bloodhound team, made up of ex-Formula One engineers and members of the armed services, can continue much further. "A number of major funding deals are still in negotiation," a statement from Bloodhound SSC read. Project director and former land-speed record-holder Richard Noble said: "The most difficult part is behind us: we have designed and built the world's ultimate racing car and prepared the best land speed racing track in history. We've also created a successful inspiration programme operating in 33 countries around the world."
What Bloodhound needs now, Noble says, "are the funds to run the car and money is just a function of perseverance and timing. Doing something truly unique, on a global scale, with such high technology, is never easy – ask Richard Branson or Elon Musk – but that makes the story we're sharing with millions of supporters all the more interesting."
As important as breaking the land-speed record and reaching 1,000mph is Bloodhound's education programme, which has a presence in schools around the world. More than 100,000 UK children took part in Bloodhound lessons or events in 2015, and 1,200 schools took part in South Africa, too. With 67,500 horsepower, Bloodhound could cover a mile in just over three seconds when it finally sets out to break the 1,000mph barrier. It is powered by the jet from a Eurofighter and a space rocket, and uses a V8 engine from a Jaguar F-Type as a 550-horsepower fuel pump.
© Copyright IBTimes 2023. All rights reserved.