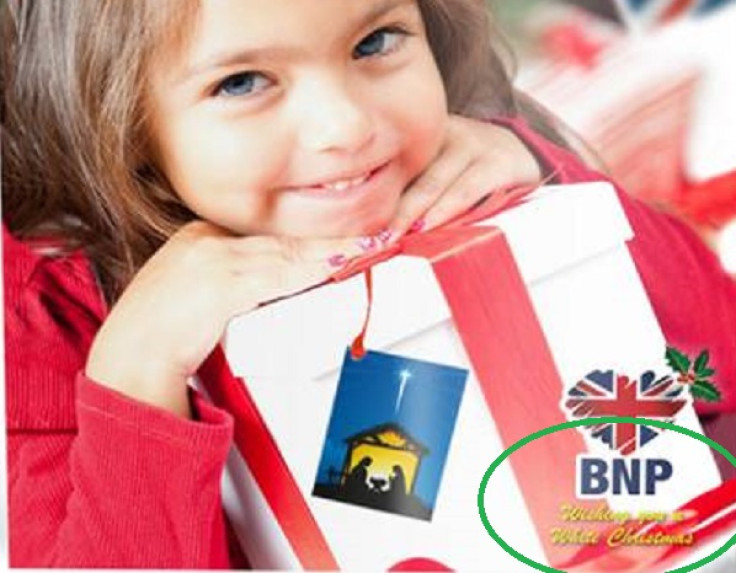 The British National Party (BNP) may be flat on its back as a political force, but it still has the capacity to offend, as a new card wishing supporters a "White Christmas" shows.
A seasonal greeting card by the far-right group carries the caption "Wishing you a White Christmas" beneath the headline "Protecting our Christmas".
In context of the BNP's long-standing wish to deport immigrants in order to make Britain in to a white-skinned island, the caption's meaning is so clear that it hardly counts as a double entendre.
According to the BNP, Christmas is under threat from multiculturalism directly linked to non-white immigration.
Despite the card's blatantly divisive and offensive content, it is "doing very well", the BNP has claimed.
However, the vast majority of its popularity appears to be coming from social media, via shares. Almost nobody has paid for the card and fewer than five have sent in the post, IBTimes UK understands.
Critics have condemned it as a "sad stunt" by a party "on its last legs".
"The BNP's lost its MEPs, all but one of its councillors, and the season of goodwill clearly does not extend to its many internal feuds," said Hope Not Hate, a diversity group.
"Not even this sad stunt, trying to resurrect a non-story from 10 years ago about 'PC councils gone mad', can disguise the face that the BNP is on its last legs."
Unfortunately for the BNP, its card also risks alienating non-white sympathisers at a time when the party is in disarray and badly in need of all the supporters it can get.
A party spokesman claimed to IBTimes UK that many West Indians and Sikhs agreed with the party's "Islamophobia" and resented the presence of the British Muslim community.
But it is precisely these people who are excluded from the card's "white Christmas" wish, which is hardly the way for an alienated party to drum up new support.
BNP spokesman Simon Darby said: "Every time white people express their culture and desire to preserve it, people call you racist.
"A lot of Sikhs and west Indians like living in a predominantly white country and they have told us they do not like the way it's going with Muslims. The demographics show that it's going to be a choice between a Christian country and a Muslim country."