Rail, Maritime and Transport Union leader Bob Crow died from a massive heart attack and aneurysm in the early hours of the morning.
Doctors are believed to have fought for hours to save the 52-year-old's life but he died at Whipps Cross hospital in Leytonstone, the Evening Standard reports.
Announcing his death, the RMT said in a statement: "It is with the deepest regret that RMT has to confirm that our general secretary Bob Crow sadly passed away in the early hours of this morning.
"RMT would request that all media respect the privacy of the friends and family of Bob Crow at this distressing time."
Crow has become one of 82,000 people who die from a heart attack in the UK every year.
While he enjoyed some fairly lavish lunches and drank alcohol, Crow was not overweight and did not smoke – two factors that vastly increase the risk of having a heart attack.
Defending a £10,000 cruise, he told the Mirror: "I don't smoke. I don't drive a car. So if I want to throw ten grand at a holiday, I will – and I won't apologise for it.
"Oh, and for the record – I wasn't swigging champagne all day on the beach in Copacabana. One, I don't drink champagne. And two, I never drink during the day.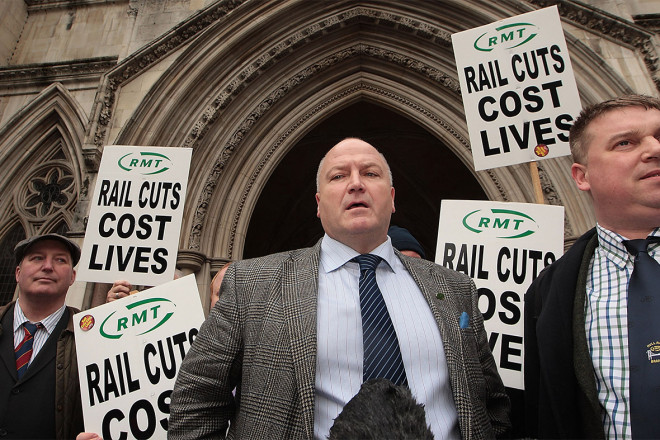 "I know it's all about ­perception, but is a working man supposed to walk around with a hankie on his head, eat chip sandwiches and drink pints of bitter to prove he's working class? I don't give two hoots what people say."
Another factor that can increase the risk of heart attacks is stress and family history. Crow's father George also died from a heart attack in the mid-1990s, the Daily Mail reports.
A heart attack takes place when the supply of blood to the heart is suddenly stopped, normally from a blood clot. It is estimated there are 750,000 people in the UK under the age of 75 who have suffered from a heart attack.
Despite the high rates in the UK, one person dies from a heart attack every seven minutes, with one in three dying before reaching hospital.
Crow also suffered from an aneurysm, described by the NHS website as "a weakness in the blood vessel wall, usually where it branches.
"As blood passes through the weakened blood vessel, the blood pressure causes a small area to bulge outwards like a balloon.
"Aneurysms can develop in any blood vessel anywhere in the body, but the two most common places for them to form are in the abdominal aorta [the artery that transports blood away from the heart to the rest of the body] and the brain."
Abdominal aortic aneurysms are most common in men over the age of 65, with men six times more likely to suffer from this type of aneurysm than women.