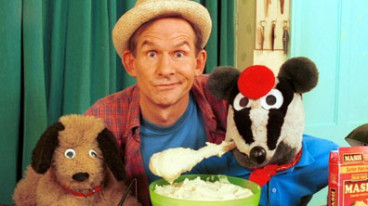 Children's entertainer Andy Cunningham, best known for creating Bodger and Badger, has died.
Cunningham became one of the most famous figures on British children's TV in the 1990s as handyman Simon Bodger who had a badly behaved companion – a talking badger with a love for mashed potatoes.
Cunningham played the handyman who had various jobs throughout the series. He also played several uncredited roles in Star Wars: Return Of The Jedi, including Jabba the Hut's bodyguard Ephant Mon.
He also performed live with a three-headed creation called Freeman, Hardy & Willis.
The entertainer's friends claim that the puppeteer and magician passed away yesterday (6 June) in Brighton after a long illness.
Comedian Charmian Hughes paid tribute on Facebook. He wrote: "So sad to hear Andy Cunningham has died.
"I first met him doing his magic show when I was being a terrible clown at the same event and we were near neighbours in Islington.
"I last saw him at the Brighton fringe about three years ago and he was very mischievous in my audience. Actually, he was my audience. RIP sweet man," he added.
Fans were quick to pay their respects on Twitter, with one person writing: "Very sad to hear of the passing of Andy Cunningham, a lovely, funny, gentle man. I loved his "Freeman, Hardy, and Willis". Very sad." as another wrote: "Sad to hear that #AndyCunningham passed away. Played multiple roles in #starwars #rotj & was known for #bodgerandbadger in the UK. Nice man."