She was raging on the launch night of the new series of Love Island when Jessica poached her man Dom, but Montana was acting like a 'psycho' in the wake of her loss, sparking viewers to create memes about the love triangle.
The stunning PR student, 21, was left devastated after buxom model Jessica, 23, snatched her man after getting to pick any one of the boys from the existing couples on Monday night's (6 June) episode.
In the second episode, Montana spent most of her time moaning about what had happened and shooting daggers at Jessica, who rightly assumed that she hates her guts.
They began the episode at war, with Montana receiving a threatening text after being uncoupled with Dom, the 26-year-old tattooed hunk most people would think she was married to if they hadn't known any better.
The message read: "Montana, you are now single. In a few days everyone except Jessica and Dom will have the chance to recouple.
"The Islander not chosen in that recoupling will be dumped from the Island. #alltoplayfor #getgrafting."
Ignoring the aforementioned message and determined to fight for her man (of one day), Montana snogged Dom during a racy game of Spin the Bottle. The game involved mystery facts being read out one by one and the islanders picking who they believe the fact applies to by giving them a smooch.
After deliberating with the girls, Montana decided that Dom is obviously the boy who has previously had "threesomes, foursomes and fivesomes" before pouncing on him for a snog in front of the whole group.
The pair later kissed after the task when Dom emerged from the shower, with Montana telling him: "If you share a bed with Jess, which I think you probably should, but if someone new comes in you've got to be prepared for me to do the same." We're somehow sure he'll cope.
Their budding relationship was suddenly threatened when Jessica gets a text stating she will be going on a date with Dom, and he responds by saying he's "buzzing" about it.
Unsurprisingly, the date went swimmingly, with Dom even revealing that he "could fall in love" with glamour model Jessica. He ended the romantic evening by telling her she looks "ridiculously beautiful". Giving him the green light, she told him that they could end up winning the show as the new "power couple." Strong words for a first date.
Viewers were cringing at Montana's desperation at home, with Twitter flooding with comments and memes about the love triangle.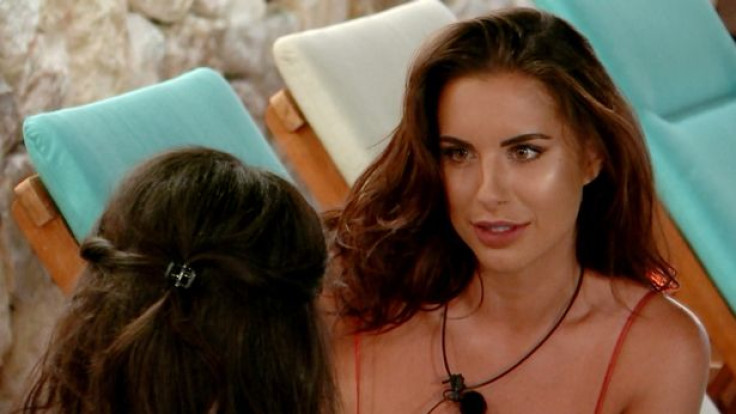 One person tweeted: "Montana just find a new man it's for the best babe," before adding: "Montana acting like her and Dom married with 3 kids and a French Bulldog.. babe it's been a day".
Someone else said: "NAH DOM selling dreams to Montana ffs no wonder us girls catch feelings he'll be snogging Jess in bed tonight."
Another said: "How can Montana be this psycho over someone she's known for 24 hours wtf."
A fourth added: "Montana is the type of girl you take out once and the next day your getting sent a relationship request on Facebook."
Check out some of the memes below:
Love Island continues on ITV2 tonight at 9pm.