Senegal has announced it intends to ban the full Islamic veil in the country fearing attacks by Nigeria-based terror group Boko Haram. Although the eastern African nation has never been attacked by the Islamist outfit, Interior Minister Abdoulaye Daouda said the move aims to protect national security.
Authorities in Senegal have recently arrested four imams suspected of having ties with Boko Haram, which has killed between 17,000 and 20,000 people since its insurgency became violent in 2009. The group directs its attacks at three states in Nigeria − Adamawa, Yobe and Borno − and northern Cameroon, with coordinated bombings also occurring in other parts of Nigeria, as well as Chad and Niger.
Boko Haram is renowned for carrying out suicide bombings − or forcing abducted women and children to do so − disguising the explosive under burqas, garments usually worn by women in some Islamic countries that cover the entire body with the exception of a semi-transparent cloth over the eyes.
Who are Nigeria's Boko Haram terrorists?
Boko Haram (recently renamed Iswap) fights against Western influence in Nigeria and aims to impose its version of Sharia law in the country.
The group declared an Islamic caliphate in Gwoza, along the Cameroon border, in August 2014.
Boko Haram has raided several cities in the north of the country in a bid to take control of more territory. Three states − Adamawa, Borno and Yobe − have been under a state of emergency since May 2013, due to Boko Haram's attacks.
Speaking to IBTimes UK, independent Nigerian journalist Ahmad Salkida, who managed to secure negotiations (later dropped) between Boko Haram and the government this March, said: "For many years, countries like Senegal, Burkina Faso and Sudan [have offered] safe houses for Boko Haram leaders.
"Most terror groups have a neutral country or place to take a break or plan or keep family or hold meetings...it's common." Referring to a possible presence of Boko Haram in Senegal, he said: "I doubt it's about attacks."
What countries banned the burqa fearing Boko Haram attacks?
Senegal is the last on a list of countries who decided to ban the burqa to lower the risk of attacks by the terrorists.
Chad
Chad is part of a Nigeria-led regional force − consisting of 8,700 troops from Nigeria, Niger, Chad, Cameroon and Benin − against Boko Haram. The country intensified its fight against the terrorists after twin suicide bombings blamed on Boko Haram killed dozens in the capital N'Djamena in June.
Following the blasts, Chad banned the burqa – arguing that it could be used by terrorists as a camouflage – and announced it would round up and arrest foreigners in a bid to identify suspected Boko Haram members. Chad also bombed six Boko Haram camps in northern Nigeria. However, Nigeria denied that the territories affected by the bombing were part of Nigeria. The country also declared a state of emergency in the Lake Chad region.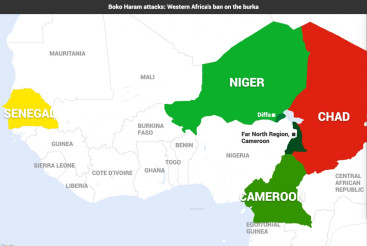 Niger
Authorities in Niger's Diffa region banned the use of the burqa and declared a state of emergency following deadly attacks blamed on Boko Haram. The country also temporarily banned the use of motorcycles, frequently used by insurgents during the attacks.
Some 20 US Special Operations Forces have been deployed in the region to help in the fight against Boko Haram.
Cameroon
Cameroon, routinely attacked by Boko Haram in the territories along the border with Nigeria, has imposed a burqa ban in its North Region where Boko Haram often finds shelter escaping from a recently intensified military offensive in northeastern Nigeria.
Cameroon also hosts thousands of Nigerian refugees who fled the insurgency. In August, authorities arrested two Boko Haram suspected members disguised as female refugees. The men, who were carrying explosives in their luggage, were stopped at the Minawao refugee camp, near the border with Nigeria.
Earlier in October, US President Barack Obama announced the country would send 300 troops to carry out airborne intelligence, surveillance and reconnaissance operations.