A former Nigerian army colonel has been accused by President Muhammadu Buhari of the theft of funds earmarked for the army in the fight against Boko Haram terrorists. Buhari ordered the arrest of Sambo Dasuki after claiming the former colonel awarded contracts to buy 12 helicopters, four fighter jets and munitions worth $2.9bn (£1.8bn) that, in reality, were never purchased.
Dasuki, 60, denied the charges and said during an interview with PR Nigeria that he was proud the army had managed to push Boko Haram out of its self-appointed Islamic caliphate in north-eastern Nigeria while he was still in control of the offensive.
Early career
As inquiries into Dasuki and other high-ranking officials' alleged wrongdoings continue, IBTimes UK looks at the retired colonel's military and political career, including his personal life.
Dasuki was born in Kaduna state, north-western Nigeria in December 1954. His father was the 18th Sultan of the Sokoto caliphate, abolished by the British colonisers in 1903. The position of Sultan, however, was retained and the titular head still holds considerable influence among the Muslim population and in Nigeria's geo-politics.
Dasuki enrolled at the elite Nigerian Defence Academy in Kaduna in 1972 and became a platoon officer within the army headquarters two years later. In 1983, he participated in a military coup d'etat that ousted democratically-elected President Shehu Shagari and installed the then Major General Muhammadu Buhari as head of state.
Two years later, Dasuki took part in another coup led by Major General Ibrahim Badamosi Babangida which resulted in the arrest of Buhari. In December of that year, hundreds of military officials were arrested, tried and some were executed after being charged with conspiring against Babangida, who had become the president of Nigeria under military rule.
Dasuki worked as Babangida's aide until 1988, when he left the post due to alleged disagreements with the then Chief of Army Staff, General Sani Abacha. He then went to the US where he received further military training, according to the Daily Trust.
Dasuki prematurely retired from the army in 1993 as Abacha became head of state. He was also accused by Abacha of having masterminded a coup allegedly led by Col. Lawan Gwadabe. The Abacha regime also deposed Dasuki's father as sultan of Sokoto.
Dasuki returned to Nigeria in 2001 and was appointed as the managing director of Nigeria Security Printing and Minting Company Limited by the then president Olusegun Obasanjo. Dasuki left the post two years later after Obasanjo privatised the company.
He later became national security adviser to erstwhile president Goodluck Jonathan in 2012, as the country was facing a violent insurgence by Boko Haram, who launched deadly attacks against civilians, police and military personnel in 2009.
In 2015, Dasuki warned the military was not able to guarantee safety to civilians due to increase Boko Haram attacks in the run-up to presidential election, which was subsequently postponed till March in a controversial move by Jonathan.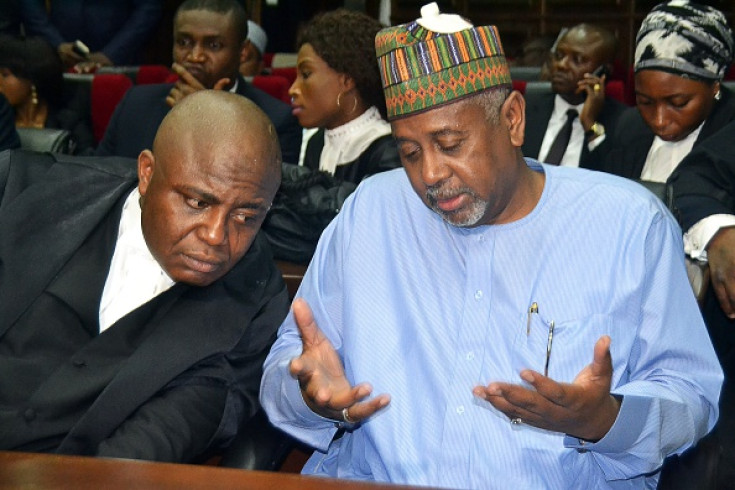 Allegations against Dasuki come as Buhari's anti-corruption fight gathers pace
Buhari emerged as winner of the presidential elections and took office in May 2015. The leader has vowed his administration end corruption and recover funds he alleged were stolen during previous administrations.
In recent months, several high-profile government officials have been accused of wrongdoing and subsequently fired in the ongoing anti-corruption fight promoted by the president. Some have argued, however, that recent allegations against Dasuki might be part of a vendetta by Buhari for the 1985 coup that resulted in his overthrow.
Nigeria's intelligence agency, the State Security Service (DSS), has kept Dasuki under house arrest for more than a week despite a Federal High Court order allowed him bail and the permission to travel abroad to seek medical care, AP reported.
Dasuki also pleaded innocent to other charges of money-laundering, involving more than $423,000 and illegall possession of weapons seized at two of his houses. Last year, the former security adviser was called before a senate committee to explain why South Africa had blocked a $5.7m (£3.7m) bank transfer and seized $9.3m (£6.1m) in cash arguing the funds involved illegal arms transactions, a claim Dasuki rejected.
Buhari's spokesperson Femi Adesina said in a statement on 17 November that a preliminary investigation into arms procurement since 2007 have resulted in "worrying findings".
The statement added: "Had the funds siphoned to these non-performing companies been properly used for the purpose they were meant for, thousands of needless Nigerian deaths would have been avoided. Furthermore, the ridicule Nigeria has faced in the international community would have been avoided. It is worrisome and disappointing that those entrusted with the security of this great nation were busy using proxies to siphon the national treasury, while innocent lives were wasted daily.
"In light of these findings, President Muhammadu Buhari has directed that the relevant organisations arrest and bring to book, all individuals who have been found complicit in these illegal and fraudulent acts."
Nigeria up close: Check out our Flipboard magazine