Boko Haram releases pictures of child soldier training camp in Nigeria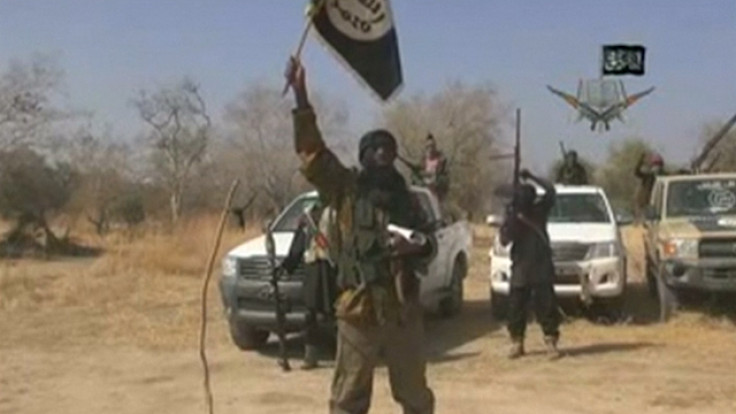 Nigerian terror group Boko Haram has released pictures showing child soldiers being trained, local media reported.
Al Urwa al Wuthaqa, a media group that has been associated with the insurgents, released two images of some children holding AK-47 assault rifles. The pictures were presumably taken in northern Nigeria, where Boko Haram often carries out its attacks.
Who are Boko Haram militants?
Boko Haram, which fights against Western influence in Nigeria and aims to impose its version of sharia law in the country, declared an Islamic caliphate in Gwoza, along the Cameroon border, in August 2014.
The group has been raiding several cities in the north of the country in a bid to take control of more land.
Borno, Yobe, and Adamawa states, where the militants usually carry out their attacks, have been under a state of emergency since May 2013.
The images were released a few months after Human Rights Watch warned that boys and girls kidnapped by the Nigerian terrorists were used during attacks.
The report came a few days after suspected Boko Haram militants kidnapped at least 30 children, including girls as young as 11, in a village in the north of the country. The previous week, Boko Haram abducted some 40 women in Adamawa State.
The group sparked worldwide outrage after it snatched some 200 schoolgirls in the Chibok village, Borno state, last April.
Following months of fruitless research, reports emerged that the girls were being used as suicide bombers.
Boko Haram fighters have stepped up their attacks in recent months while current Nigerian president Goodluck Jonathan, often accused of failing to halt the terrorists, is getting ready to re-run in the upcoming presidential election.
At the beginning of January, Boko Haram slaughtered at least 2,000 people, including women and children, in Baga, Borno state.
The mass-killing, described as "possibly the deadliest" the terrorists have committed, was carried out as the group raided 16 towns in Borno.
Nigeria cannot stand alone in the fight against Boko Haram
At the time of the massacre in Baga, the Christian Association of Nigerians and Americans (Canan) released a statement calling for the UN intervention to help Nigeria defeat terrorism.
"According to the US-based Council on Foreign Relations, Boko Haram killed more than 10,000 people in 2014 alone. With the massacre of 2000 in one attack this week, we are no longer certain what the world through the UN is waiting for before taking drastic actions.
"The numbers are adding up fast and it is becoming clearer and clearer that the Nigerian governments both federal and states are failing resoundingly in their responsibility to protect innocent lives. Canan continues to be concerned about relief for the victims of terrorism in Nigeria."
According to Pastor Laolu Akande, Canan's executive director, Boko Haram can only be defeated if the international community provides support to the Nigerian military.
"Nigeria has been trying to defeat the insurgents for four years and it is clear that it cannot do it alone. Nigerian forces are too weak. It is time for international force of the calibre of the UN to deploy troops in that part of Nigeria. This has to be done and it cannot be ignored any more," he told IBTimes UK.
"We do work with people who have been affected by Boko Haram, people whose family members have been killed. We try to assist them, we try to build relationships with them, we pay for their medical expenses. Most of these people, however, are still in Nigeria, or they flee to Chad and Cameroon.
"Nigerians deserve the same attention that those people who were killed in Paris in January received. More than 2000 people were massacred at the beginning of January and the international community ignored it," he continued.
"It is important to understand that what is happening in Nigeria is a genocide, like the one occurred in Rwanda in 1994, and the world did not intervene to stop it.
The UN has the responsibility to protect Nigeria. Boko Haram members are very despicable and brutal and every person in the world has to rise and say no to this violence."
© Copyright IBTimes 2023. All rights reserved.