Boko Haram: Nigeria needs support like France but 'Western countries don't want to get involved'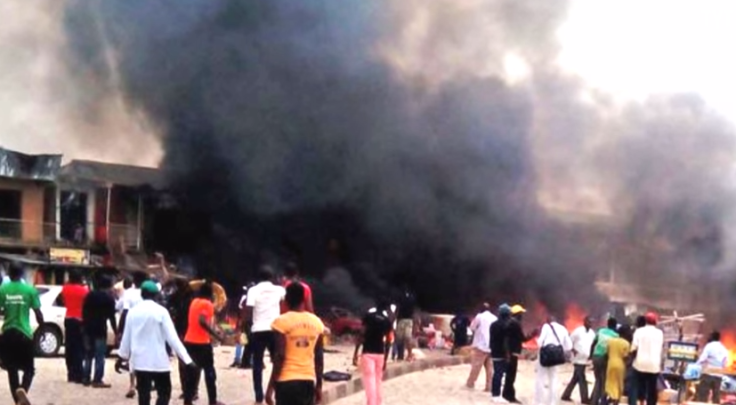 After the Nigerian government's announcement that it had reached a ceasefire with terror group Boko Haram last October, several states in the country have witnessed a rise in terror attacks carried out by the Islamist group.
Boko Haram, which is translated from Hausa language as "education is forbidden", fights against Western influence in Nigeria and aims to impose its version of Sharia law in the country.
The group declared an Islamic caliphate in Gwoza, along the Cameroon border in August 2014 and has been raiding several cities in the north and centre of the country in a bid to take control of more land.
As a result, thousands of civilians have been killed in the attacks and at least three states, Adamawa, Borno and Yobe, have been under a state of emergency since May 2013, due to the increasing violence.
In one of the latest raids, thousand of civilians were killed while the insurgents torched 16 towns in Borno.
Baga town, about 1,030km from the capital Maiduguri, was one of the places that most bore the brunt of the attacks as it is feared at least 2,000 people, including women and children, were killed. The attacked was dubbed as "possible the deadliest" carried out by the terrorists.
Only a few days after the mass killing, a 10-year-old girl was forced to carry out a suicide attack in Maiduguri killing 16 people.
Ignatius Kaigama, a Roman Catholic Archbishop in Jos, central Nigeria, urged the Western media to document Boko Haram's attacks and added Nigeria deserves the same attention as Paris, referring to the case of French satirical magazine Charlie Hebdo, the target of an attack that left 12 people dead at the start of January.
"I see the very positive response of the French government tackling this issue of religious violence after the killing of their citizens," he said during an interview with the BBC.
"We need that spirit to be spread around, not just when it happens in Europe, [but] when it happens in Nigeria, in Niger, Cameroon and many poor countries, that we mobilise our international resources to confront the people who bring such sadness to many families."
Many have argued Western media focused reports on the Charlie Hebdo case without giving enough attention to what was happening in Nigeria.
According to Norman Amidu, international analyst and senior consultant at iecoAfrica, Western countries do not want to get involved with Nigerian "internal political issues".
"The issues in Nigeria are complex," he told IBTimes UK. "Foreign countries do not want to be involved and they are cautious on what they say about Nigeria.
"They also think that their involvement will be fruitless. For example last year, with the case of the kidnapped Chibok girls, many countries got involved and also put some capital to help in the search of the girls but the issue was not resolved."
Amidu referred to the case of some 220 girls who were kidnapped by Boko Haram last April. It prompted public outcry in many Western countries with prominent politicians and public figures taking part in the social media campaign #BringBackOurGirls to raise awareness of the issue.
Countries including Britain, France and the US also sent troops to help the Nigerian army in the search.
He said: "Western countries think that by talking about Nigerian issues nothing change and they prefer diplomatic channels more than political channels."
Amidu also said Boko Haram has been used as a tool by people who are not happy with Goodluck Jonathan, the Nigerian president.
"We need to consider two factors when we talk about Boko Haram: First there is the undeniable Islamic fundamentalism that is growing in the country. But there is also a political factor," he explained. "There is a belief that there are some people behind Boko Haram and they use the group's insurgence to promote their agenda: they are unhappy with Jonathan and therefore they use terrorism to urge the president to step down so that a president from the north can be elected."
Many have also accused Jonathan of doing very little to halt Boko Haram's insurgence. However, according to Amidu, the Nigerian president "is doing whatever he can, but the problem is that soldiers are not able to counterattack Boko Haram".
He said: "Moreover, the military exacerbate the problem of instability in the country as people are often abducted, tortured and even killed by army members."
Amidu's comments on the Nigerian military came a few months after reports emerged that the army refused to be deployed in areas held by Boko Haram.
Last August, Amnesty International released a footage warning the army was beheading suspected members of the terror group and dumping their bodies in a mass grave.
© Copyright IBTimes 2023. All rights reserved.