Bomb blast kills at least four in Syrian refugee camp in Jordan
The Rubkan camp, in northeast Jordan, is home to at least 75,000 refugees.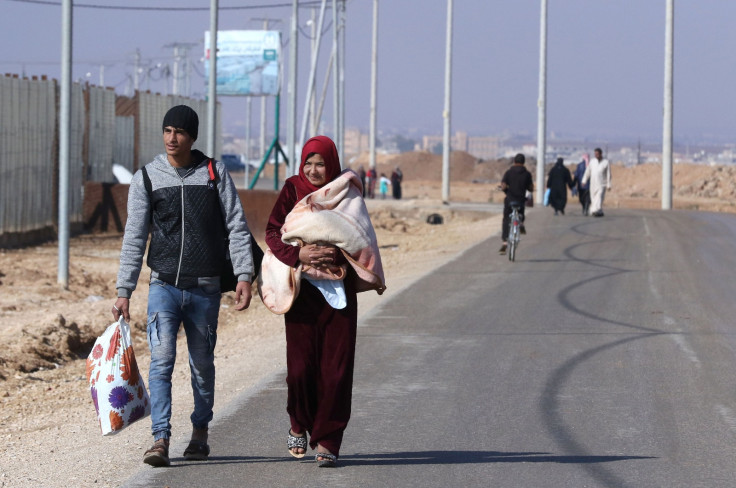 A car bomb has killed at least four civilians at a refugee camp for displaced Syrians in northeast Jordan.
The targeted Rubkan camp lies near the border with Syria and has become home to over 75,000 refugees since the outbreak of the conflict.
Jordan has taken in over 1.6m refugees in total and previously operated a demilitarised border with Syria, but has since closed off access for fear of Islamic State (Isis) sleeper cells developing in the country.
The Syrian Observatory for Human Rights and Jordanian news agency Petra both reported Saturday's (21 January) attack.
"A car bomb exploded on the outskirts of the Rukban camp on the Jordanian border, killing four displaced people and injuring others," said Rami Abdel Rahman, director of the Britain-based monitor, reported AFP.
He added that 14 people were wounded in the blast and casualties were taken to a clinic in the border area for treatment. No Jordanians are believed to be hurt in the blast.
Despite being deep into the desert, the attack is likely to trouble many Jordanians who have seen terrorism creep further and further into their borders.
The Rubkan camp was previously attacked on 21 June and 17 December last year. Also in December, IS (Daesh) claimed responsibility for an attack in Karak, central Jordan, where nine Jordanians and one Canadian tourist were gunned down in the city's Crusader castle.
Jordanians are also fearful such attacks could dampen the country's tourism industry, which it relies on for $4bn (£3.23bn) in revenues every year.
As a result, some have been critical of the Jordanian government as it is one of few Arab states to have taken part in the US-led air campaign against IS in Syria.
That sentiment reached an all-time high when Jordanian pilot Maaz Yusuf al-Kasasbeh was captured by IS militants in 2015, after his plane was shot down in Raqqa, Syria.
He was then brutally burned alive in a cage in a video which horrified the globe.
In December, the US State Department and the UK Foreign Office issued a travel warning for Jordan due to "threats for terrorist groups".
© Copyright IBTimes 2023. All rights reserved.