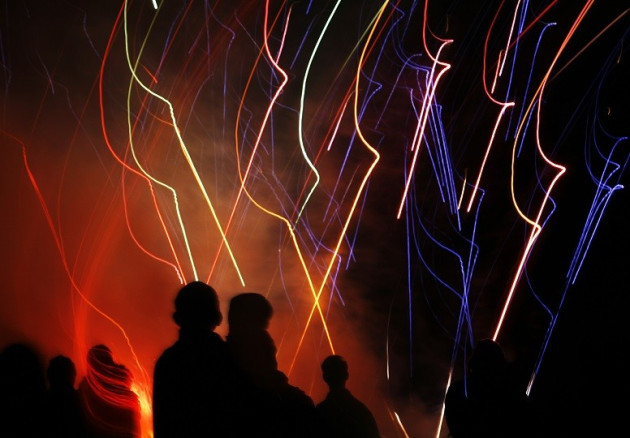 Forecasters have predicted a clear and dry night for Bonfire Night events taking place across the country.
Experts at The Weather Outlook have said rainy spells will shower the country during the day but should clear away by the evening's fireworks displays.
"This morning outbreaks of rain will push east across much of the UK with brighter conditions following on behind from the west. It will become quite windy again and in the clearer air showers will develop, especially in western and northern regions where some could be heavy," The Weather Outlook said.
"If you're having a fireworks party this evening then keep an eye on the rainfall radar, but hopefully for many of you conditions won't be too bad with the persistent rain having cleared away earlier in the day."
Forecasters said northern regions will become colder and there is a chance of snow and rain over the Scottish mountains.
Areas surrounding Wrexham, Preston, Manchester, Sheffield and Leeds are most likely to experience rainy fireworks displays, with the Met Office forecasting showers in the area.
In Scotland, Dumfries and Glasgow look to be worst affected by rain. Light showers may also affect parts of Devon and Cornwall.
Temperatures range from around 4C in parts of Scotland to 11C in the South West. However, the wind will make it feel considerably cooler, with the average temperature feeling like 4C.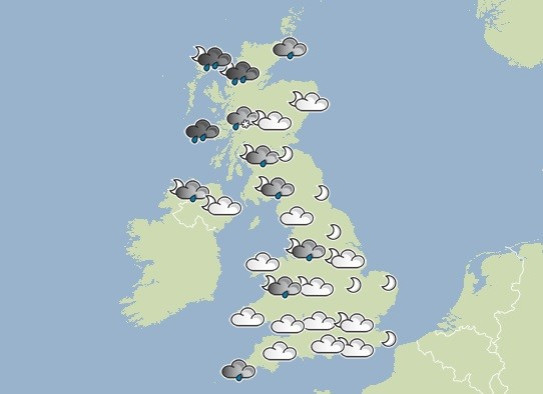 The Weather Outlook said rain will return on Wednesday across the UK, with the rest of the week expected to be "unsettled".
For the rest of November, temperatures are expected to be above average but it will be a wet month, with showers expected across all parts of the UK.
Ahead of Bonfire Night, the London Fire Brigade issued safety advice for people planning displays and bonfires.
LFB said not to drink alcohol and set off fireworks, never return to them once lit even if they haven't gone off and never throw fireworks or put them in your pockets.
Authorities also warned people to build bonfires away from buildings, not to use flammable liquids and not to leave fires unattended.
A spokesperson for the Brigade said: "Our advice is always to attend organised firework displays as they're much safer than holding your own.
"If you do light your own fireworks and bonfires, please be really careful and light them well away from buildings, sheds and trees and anything else that could catch fire.
"Bonfire Night is our busiest night of the year but so many of the blazes we attend could be prevented if people took greater care."
Read More:
Bonfire Night 2013: Where to Watch the Best Fireworks Display