'Bono Has Ebola' Hoax Hits Twitter
Lead singer of U2 did not contract the deadly virus while caring for an infected Liberian man.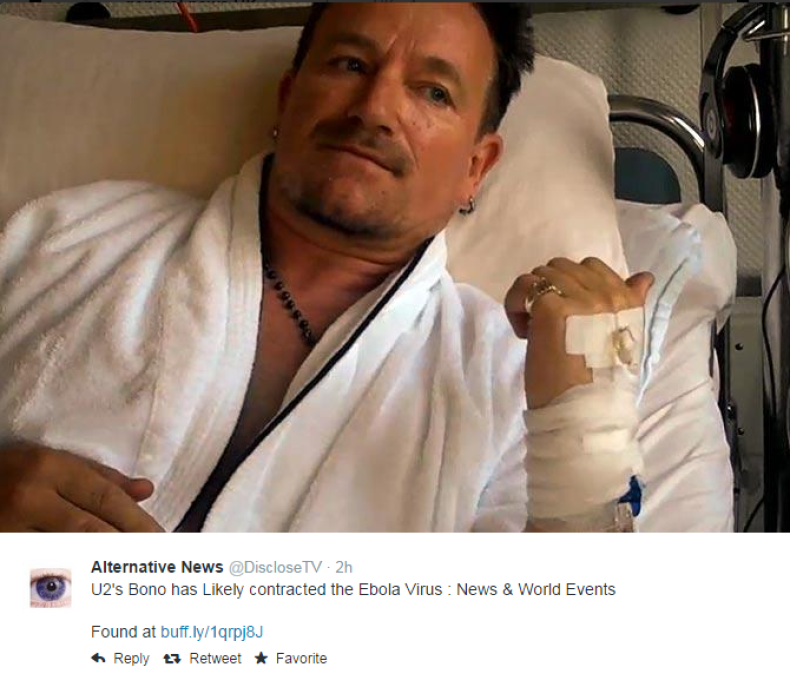 A number of hoax and satirical websites have posted the 'news' this week that the lead singer of U2, Bono, has contracted the deadly virus Ebola.
Godlike Productions and Organ Grinder Magazine have all posted the false article claiming the famous humanitarian became infected while caring for a man in Liberia – the West African state that has seen the most Ebola deaths of any country in the world.
Organ Grinder wrote that the "U2 singer, activist and humanitarian has reported that he is exhibiting early symptoms of ebola and has most likely contracted the virus while caring for a dying Liberian man.
"Dr Thomas Frieden, director of the US Centers for Disease Control and Prevention said at a press conference: 'The only fortunate thing here is that Mr Hewson's [Bono's] involvement will bring the epidemic the international attention that it deserves."
The article was accompanied by a photo of the singer, whose real name is Paul David Hewson, in hospital.
Although the picture is actually a still shot from a video that Bono made shortly after suffering an injury to his back in 2010, some Twitter users predictably believed the outrageous story.
A number of Ebola hoaxes have surfaced in recent weeks, as the virus continues to spread across Africa and the rest of the world.
One hoax claimed 'Ebola zombies' were real and victims were returning from the dead. Another used photos of Akon performing in a bubble in DR Congo to suggest the singer had taken the measure to avoid becoming infected.
Bono is thankfully healthy and well. He even found the time to take part in a Q&A on Facebook earlier on Wednesday, apologising for pre-loading iPhones with U2's new album.