Tennis legend Boris Becker, who famously claimed to have blown £20m ($25m) on a five-second romp with a Russian model in a broom cupboard, is reportedly planning to sell his Wimbledon trophies to pay off his debts.
The three-time All England champion was declared bankrupt in June despite earning an estimated £100m during his playing career and as a broadcaster.
Now the German, 49, is planning to sell his finest silverware and four luxury watches in the hope of raising around £1m to pay off new debts, according to The Sun.
"Boris needed to find cash fast. Selling his precious Wimbledon trophies was deemed the quickest way," a friend said.
Becker is in such dire straits that he was reportedly seen giving private tennis lessons at the All England Club in Wimbledon this week.
The virtuoso racket man famously conceived a child with Angela Ermakova after they had sex in a broom cupboard of Nobu restaurant in London in 1998. It was the first time they had met.
Becker subsequently had to pay the model a lump sum of £2m and monthly maintenance payments of £25,000 for the child, according to the Times. Their daughter is now 17.
That brief dalliance also cost him his marriage to first wife Barbara, who was pregnant with their second child at the time. She reportedly settled for £11m and the family home when they split.
Becker would later describe the encounter with Ermakova and the ensuing financial carnage as the "most expensive five seconds of my life" – or £20m, by his own estimate.
In addition to his expensive act of infidelity, he has also made a series of unfortunate investments. The recent bankruptcy will likely have been distressing for his second wife Lilly and their son.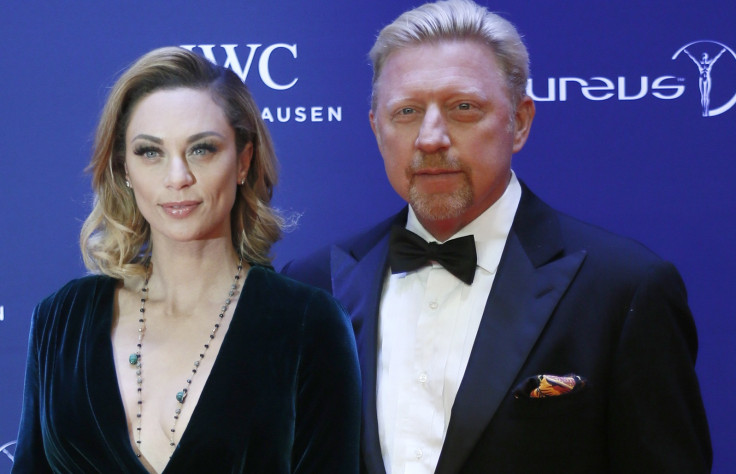 The trophies are expected to be auctioned by Wyles Hardy & Co, a Hertfordshire-based firm, according to German media. The auctioneers told IBTimes UK they were making no comment on the claims at the present time.
The magazine Bunte claimed that Becker's June insolvency was only the "tip of the iceberg". He was declared bankrupt earlier when he failed to pay money owed to a private bank. But now an ex-business partner has reportedly taken him to court, demanding £31m.
He will be hoping to improve upon the £300,000 earned by Bjorn Borg when he sold his five Wimbledon trophies in 2006.
The seven time major champion is not completely down and out, though. He still enjoys lucrative media work, including commentating for the BBC at the All England Tennis Championships in Wimbledon.