Boris Johnson has issued a direct plea to the people of Russia over the country's involvement in the Syrian civil war, as he spoke ahead of an EU Foreign Affairs Council meeting in Luxembourg today (17 October).
The British foreign secretary warned the future "salvation" of embattled city Aleppo lies with Bashar al-Assad and Vladimir Putin.
"As everybody knows there are a variety of things that we are doing, there are economic sanctions, but there is a huge amount of diplomatic pressure of one kind or another also being applied," Johnson said.
"I stress that the solution to this, the future salvation of Aleppo lies really with the Assad regime and above all the Russians.
"It is up to them to pull the plug on this thing, to see sense, and I appeal to the greatness of the Russian people to choose a different path and to go for peace, get us back on the path of negotiations in Geneva. That is what we need and that is what we will be discussing."
The comments come after the senior Conservative met with US Secretary of State John Kerry in London yesterday.
Johnson said a no-fly-zone or no-bombing-zone would be "extremely difficult" after telling MPs he thought the US-Russia dialogue over the conflict had "run out of road".
The foreign secretary has claimed "all the evidence" pointed to Russian being responsible for a deadly airstrike on aid convoy near Aleppo in September.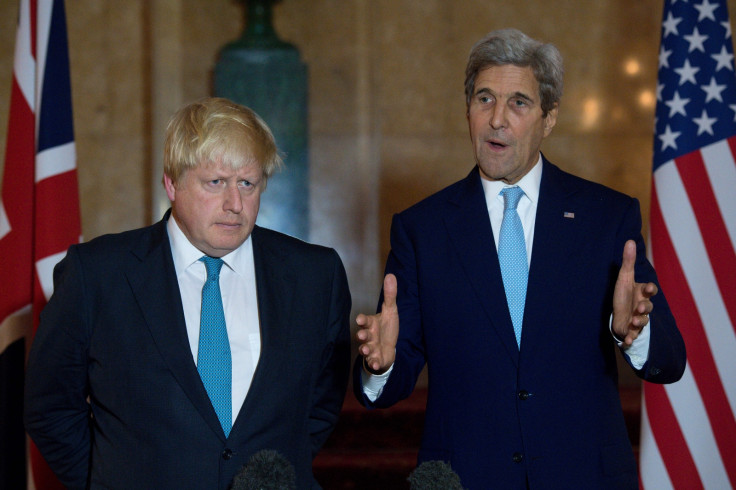 A spokesperson for the Russian Embassy in London described a House of Commons debate on the conflict as "depressing".
"The speeches of those who participated in the discussion contradict the logic of all previous decisions of the International Syria Support Group as well as UN Security Council resolutions [Britain is a member of both]," the spokesperson said.
"USA and other members of the Western coalition failed to separate Jabhat Al-Nusra from the so-called 'moderate opposition' they work with.
"The jihadists keep terrorising the civilians and fighting, rejecting cease-fire and humanitarian aid deliveries.
"Britain's logic implies putting an end to fighting terrorists and their allies. So, UK was not ready to support the plan of UN Special envoy Staffan de Mistura, aimed at alleviating the humanitarian situation in Aleppo."