Boris Nemtsov accused Russian president in weeks before his death: 'I fear Putin will kill me'
Russian opposition leader feared reprisals by Putin over his opposition to the Ukraine war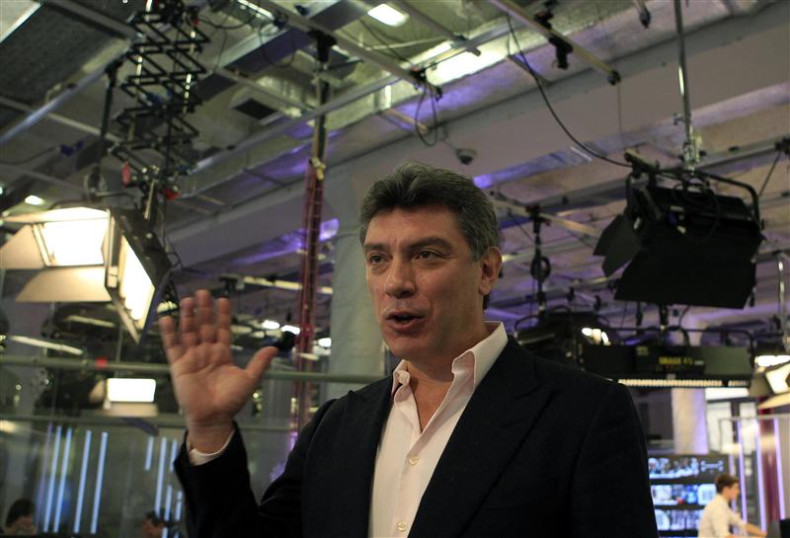 Opposition politician Boris Nemtsov spoke of his fear that Russian president Vladimir Putin would have him killed just weeks before he was gunned down outside the Kremlin on Friday.
In an interview earlier this month, Nemtsov spoke about his mother's fears that Putin would order his assassination, and his belief that Putin was behind the war in Ukraine.
"I believe that he was the one who unleashed the war in the Ukraine. I couldn't dislike him more," he said, adding that every time he calls his mother, she asks: "When will you stop criticising Putin? He will kill you!"
When asked if he feared Putin would directly – or indirectly – order his death, he replied: "Yes, a little. But if I was scared I wouldn't be the head of the opposition."
The former deputy prime minister was shot four times in the back at around 23:40 (20:40 GMT) on Friday as he walked along the Bolshoy Moskvoretsky Bridge in Moscow with a female friend. The gunman escaped in a light-coloured car.
He was planning to hold a march in Moscow on Sunday to protest against Russia's alleged backing of rebels in Ukraine.
In a telegram published on the Kremlin's website, Putin sent his condolences to Nemtsov's 86-year-old mother, Dina Eidman.
"We will do everything to ensure that the perpetrators of this vile and cynical crime and those who stand behind them are properly punished," he wrote.
"Please accept my deepest condolences in connection with this irreparable loss. I sincerely share your sorrow.
"Boris Nemtsov has left his mark in the history of Russia, in its political and public life. He occupied significant posts in a difficult time of transition in this country. He always openly and honestly voiced and upheld his views."
Nemtsov, 55, had served as deputy prime minister under Boris Yeltsin in 1990s, later becoming an outspoken critic of Putin's regime and his policies.
Hours before he was killed, he gave a radio interview calling for "honest elections and an end to "this absolutely wretched, false propaganda that has simply upturned and consumed the brains of Russian people."
World leaders condemned the murder and issued calls for an impartial, transparent investigation. British Prime Minister David Cameron praised Nemtsov for "living without fear" and never giving in to intimidation.
"His life was dedicated to speaking up tirelessly for the Russian people, to demanding their right to democracy and liberty under the rule of law, and to an end to corruption," he said.
US President Barack Obama described Nemtsov as a "tireless advocate" for citizens' rights and fighting corruption, while Ukrainian President Petro Poroshenko called Nemtsov a "bridge between Ukraine and Russia," in a statement published on his party's Facebook page.
"The murderers' shot has destroyed it. I think it is not by accident," he wrote.
As conspiracy theories circulated, Russia announced that it was pursuing several lines of inquiry, including that the killing could have been carried out by radical Islamists, may be linked to the Ukraine crisis, or was a provocation intended to destabilise Russia.
The latter suggestion was echoed by former Soviet leader Mikhail Gorbachev, who called the killing an "attempt to push the situation into complications, maybe even to destabilising the situation in the country."
Nemstov is the latest dissident to be murdered. Gunmen in Moscow also assassinated journalist Anna Politkovskaya in 2006 and human rights lawyer Stanislav Markelov in 2009. Award-winning human rights activist Natalia Estemirova was also killed in 2009, in Chechnya.
One of the most high-profile opponents of the Kremlin was former KGB officer Alexander Litvinenko, who condemned Putin from his deathbed in London, after being poisoned with radioactive polonium-210 in 2006.
"You may succeed in silencing me but that silence comes at a price. You have shown yourself to be as barbaric and ruthless as your most hostile critics have claimed," he said in a statement.
"You may succeed in silencing one man but the howl of protest from around the world will reverberate, Mr Putin, in your ears for the rest of your life."