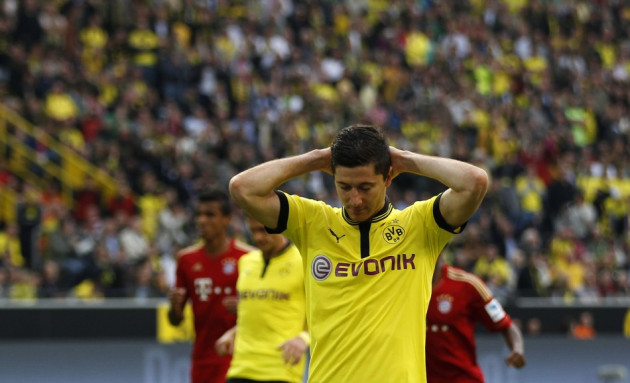 When a player demands a move and his club refuse to sell we are left with a difficult scenario in which both parties use the media to their own advantage. This summer there seems to be a number of these cases, with Robert Lewandowski perhaps the most high profile.
The Polish striker has made it clear he wants to leave Borussia Dortmund in this transfer window and when the comments are made public, the club is left with little choice and a compromise of dignity as they consider keeping the star against his will.
Lewandowski is also in the favourable position of being in the final 12 months of his deal, meaning he holds more cards than other stars across the continent currently claiming they want to leave their current home in search of greener pastures.
For Borussia Dortmund, who in particular don't want him to go to bitter rivals Bayern Munich with fellow star Mario Goetze, the situation could be considered rather dire, with all options for the Poland international next season representing a massive loss for the Champions League finalists.
It's not very often that a player wants to leave a club that has come so close to raising Europe's top piece of silverware, on the back of two Bundesliga titles in the last three years; but players can leave clubs for thousands of reasons, from looking for a change in scenery to a new challenge, to their families wanting a move.
In Lewandowski's situation, he wants to be a part of a club who achieved the perfect season over 2012-13. And with Pep Guardiola coming into the fold, the team is one that a player would go to from any club in the world, no matter how successful.
United have also made their interest in the 24 year old public, before Sir Alex Ferguson retired, and seemed to represent an option for a sale to a club that wouldn't directly rival Dortmund. Chelsea are reportedly monitoring Lewandowski too, but today the German side have insisted that any interest from the likes of United, or Chelsea, are immaterial.
"Robert will definitely be playing for Borussia Dortmund next season," general manager Hans-Joachim Watzke told German paper Suddeutsche Zeitung. "We need this security to be able to plan (for the season)."
For Dortmund, the cost of keeping Lewandowski and letting him go for free would be around £25m, his current transfer worth. Without him, the side could be looking at a Champions League campaign which doesn't bare nearly as much fruit as his 10 goals in the tournament assisted in creating last season.
If Bayern's revenue collection in the 2011-12 Champions League season was anything to go by - the Bavarian giants received €41m in payments from UEFA, including a €9m bonus for being runners up - Lewandowski's worth to Dortmund for an extra season could prove to be more than his sale.
Highly-respected German football pundit Raphael Honigstein told Talksport this week that United have turned their attentions elsewhere now, with Bayern still the main side chasing if Dortmund relent and sell.
The promise from a club that money isn't everything, and keeping their best player will bring them more happiness than any transfer fee could, has proven empty on so many occasions that when it's said nowadays, it's seen more as a ploy to drive up the price than the truth.
Will Dortmund hold out on their promise to keep Lewandowski? If United show interest again, they will certainly be more tempted than if Bayern put in a bid, and with Wayne Rooney's future currently uncertain, things may change again when David Moyes officially takes over at Old Trafford on July 1st.