Bosley Wood Flour Mill: Search continues for 4 missing employees of mill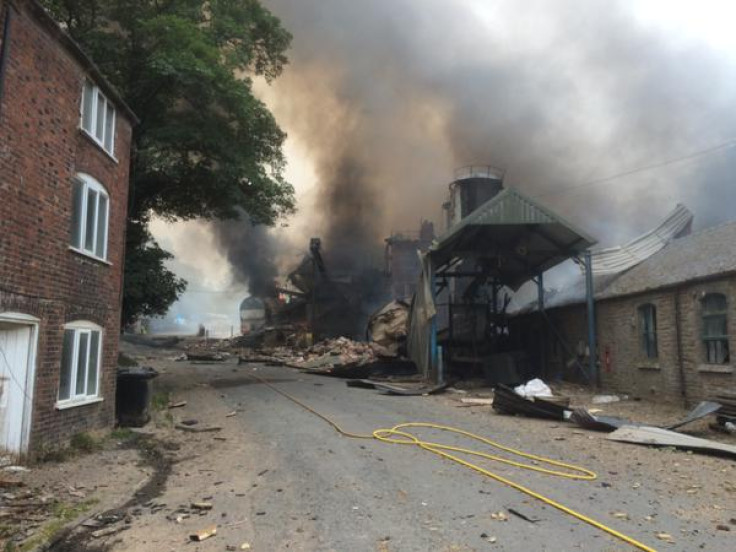 Four people missing following a huge explosion at Bosley Wood Flour Mills on Friday (17 July) have been named by police as mum-of-three Dorothy Bailey, William Barks, Jason Shingler (38) and Derek Moore (32).
Cheshire Fire and Rescue Service has confirmed it is still looking for the missing employees on the basis they are still alive, but that the longer the search continues the less likely it is there will be a happy outcome.
Chief fire officer Paul Hancock told reporters: "There's still hope but the longer the incident continues without knowing or locating these four individuals, it is looking more like a recovery than a rescue operation.
"Until we account for them there's always hope."
Cheshire Police Assistant Chief Constable Guy Hindle added: "We are still in a search phase. We are still looking for signs of life down at the scene."
One woman was treated for serious blast injuries following the explosion which took place at about 9.10am on Friday. Four were treated for breathing difficulties and four more were taken to hospital.
Leader of Cheshire Council Michael Jones confirmed on live TV that a clean-up operation took place at the site a few weeks before Friday's incident and local residents had complained about dust from the factory.
The search is extremely challenging, with parts of the site still on fire and rubble strewn across a wide area. A stream which runs past the factory is being used by fire crews to pump gallons of water in a bid to douse the blaze.
Sniffer dogs are being used in a bid to find the missing people.
"We have identified two locations we are now focusing on," said Hancock. "These locations have been confirmed by sniffer dogs.
"The search and rescue teams are working in very challenging conditions, working alongside the Health and Safety Executive explosions team as well as Cheshire constabulary CID.
"Every single brick has to be recorded and photographed and taken away. It is potentially a criminal investigation and HSE investigation."
Health and Safety Executive (HSE) investigators are questioning the mill owners, Boden Group-owned Wood Treatment Ltd. The company has yet to publicly comment on the incident.
© Copyright IBTimes 2023. All rights reserved.