Bosnian Serb authorities backed by police officials have removed the word "genocide" from a memorial plaque erected in the eastern Bosnian town of Visegrad for the Bosniaks killed during the 1992-1995 war.
The mayor of Visegrad, Slavisa Miskovic, said the word genocide was offensive to local people because there "is no proof of verdict about genocide in Visegrad".
The Bosnian town is the site of one of the most horrendous war atrocities committed by Serb paramilitaries, led by Milan and Sredoje Lukic in 1992. Fifty-nine Bosniak elderly and women were detained in a house, along with 17 children, and burnt alive.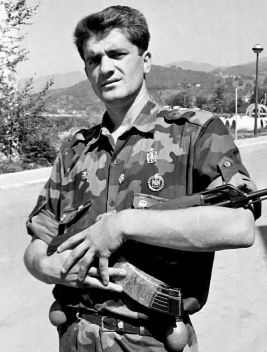 The memorial, erected in the Straziste Muslim cemetery, reads: "To all killed and missing Bosniaks, children, women and men, victims of genocide in Visegrad".
However, authorities described the memorial as "illegally erected" and previously attempted to remove the word "genocide" last December. The move was postponed after Bosniaks' protests.
A 1991 census showed that the population of the town was 25,000 – 63% were Bosnian Muslims.
According to documents of the International Criminal Tribunal for the former Yugoslavia (ICTY), some 3,000 Bosniaks were murdered during the 1992-1995 violence, including 600 women and 119 children.
Visegrad was subjected to "one of the most comprehensive and ruthless campaigns of ethnic cleansing in the Bosnian conflict", according to the ICTY.
One Bosniak war victim, Bakira Hasecic, told the non-governmental organisation BIRN that she was shocked by the "brute force used to deface the memorial". Families of Bosniak victims used red lipstick to re-write the word on the memorial.
Burnt alive
After the incident, the German Society of Threatened Peoples founded by human rights activist Tilman Zulch has sent an appeal to Chancellor Angela Merkel.
The letter reads: "The murdered civilians were thrown off the old bridge in Visegrad into the river Drina. The bridge became famous after it was depicted in Ivo Andric´s Nobel-prize winning book. Today this river is considered to be the biggest mass grave in Bosnia and Herzegovina."
A Bosnian blogger also reports that authorities attempted to destroy the Visegrad house, now turned into a memorial, in which the Lukic cousins committed the massacre.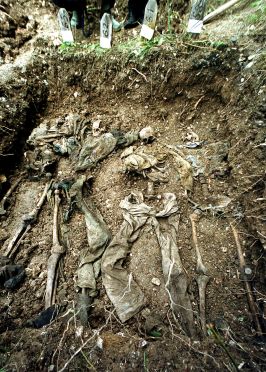 Milan and Sredoje Lukic were indicted by the ICTY in The Hague in 1996 for crime against humanity and the "extermination of a significant number of civilians, including women, children and the elderly".
The judge Patrick Robinson said, referring to Visegrad: " At the close of the twentieth century, a century marked by war and bloodshed on a colossal scale, these horrific events stand out for the viciousness of the incendiary attack, for the obvious premeditation and calculation that defined it, for the sheer callousness and brutality of herding, trapping and locking the victims in the two houses, thereby rendering them helpless in the ensuing inferno, and for the degree of pain and suffering inflicted on the victims as they were burnt alive".