A powerful blizzard struck Boston and surrounding New England, leaving some 4.5 million people grappling with as much as three feet of snow and coastal flooding, but sparing New York City residents.
Snow was forecast to keep falling into early Wednesday in eastern New England, possibly setting a record snowfall in Boston.
Boston's record snowfall of 27.5 inches (69.85 cm) was set in February 2003. At Logan International Airport, 23.3 inches (59.2 cm) of snow was on the ground, swept higher in parts by strong winds.
"There are drifts now of four, five and six feet in some places," Massachusetts Governor Charlie Baker said. "This is clearly a very big storm for most of Massachusetts."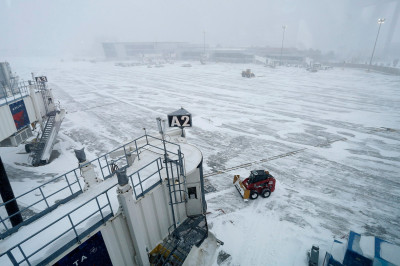 The heaviest snowfall was recorded outside Boston, with 36 inches (91.4 cm) in Lunenburg, Massachusetts, and 35 inches (88.9 cm) reported in Auburn, according to the National Weather Service.
The area is also dealing with bitter cold: the low in Boston on Wednesday is expected to be 10 degrees Fahrenheit (minus 12 Celsius) and forecasters said it would not get above freezing for the next week or so.
Storm-driven coastal flooding added to the state's woes, as low-lying towns south of Boston grappled with rising water.
High tides breached a seawall in Marshfield, about 30 miles (50 km) south of Boston, damaging 11 homes, several of which were condemned, police said. Police urged residents to evacuate.
The National Weather Service said a 78 mph (125 kph) gust was reported on Nantucket, and a 72 mph (115 kph) one on Martha's Vineyard.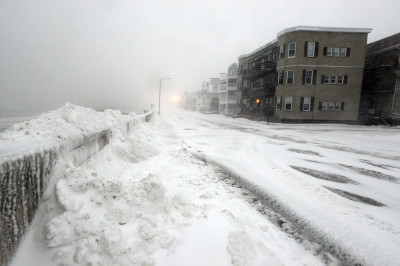 Many Boston residents celebrated the snow, with hundreds taking part in recreational activities in parks and on snow-covered streets.
Residents of Boston's Beacon Hill neighbourhood skied, snowboarded and sledded downhill.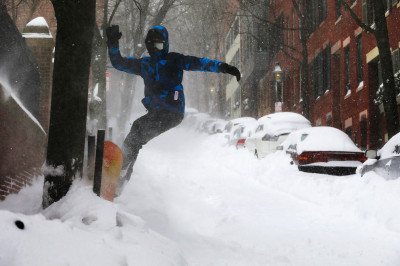 Further south, New York, New Jersey and Connecticut escaped the worst of the storm, despite dire predictions by meteorologists and officials.
New Yorkers were divided on whether Governor Andrew Cuomo and New York City Mayor Bill de Blasio had over-reacted ahead of the storm. Cuomo had ordered a total travel ban on all roads in the southern part of the state, while the subway system closed for the first time in history due to snow.
Cuomo defended the decisions, saying he favoured "a lean toward safety". "I have seen the consequences the other way," he said. "I would rather be in a situation where we say 'We got lucky'."
New York City's snowfall was still substantial: La Guardia International Airport recorded 11 inches (28 centimetres) of snow, and Central Park was blanketed with almost 8 inches.