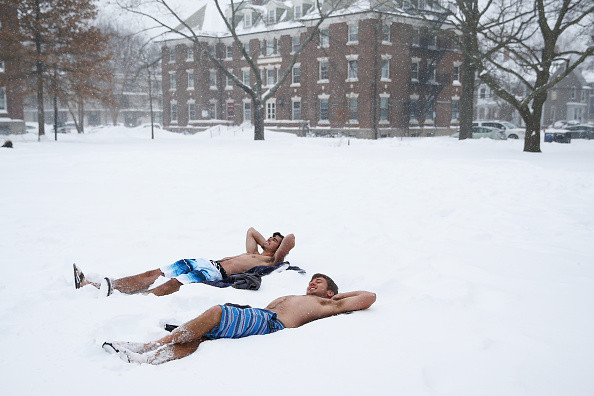 Forecasts were downgraded and transport ban was lifted in New York City as residents awoke to a less severe blizzard than was predicted causing many to claim officials overreacted to Juno storm's threat.
Residents across Philadelphia, New York and New Jersey got far less snow on Tuesday (27 January) than was predicted with NYC receiving about 8 inches, Philadelphia an inch and New Jersey up to 8 inches.
New York City Mayor Bill de Blasio defended the storm warnings and said: "This is a better-safe-than-sorry scenario. We did what was necessary to keep everyone safe."
Emergency was declared on Monday (26 January) across many cities in northeast US as meteorologists forecasted up to 90cm (36in) of snow and warned that a "potentially historic blizzard" is on its way.
Only emergency vehicles, like police cars and snow ploughs, were permitted on the roads in NYC past 11pm local time on Monday (26 January).
New York Governor Andrew Cuomo also took to the defense of the travel bans and rail closures saying weather is generally unpredictable.
"You plan the best you can and you lead toward safety. It may actually have brought us back to full operating capacity sooner but I do not criticize weather forecasters. I learn," said Cuomo.
Meanwhile Gary Szatkowski, the meteorologist-in-charge at the National Weather Service in Mt. Holly, New Jersey, took to Twitter to apologize to residents who were affected by the severe weather warnings.
Another meteorologist was overheard saying: "We didn't get the weather we hoped for?"