Like a scene from 28 Days Later, lone individuals make their way across eerily quiet city streets. Not a single car disturbs the quiet on these normally traffic-clogged thoroughfares. But this isn't the zombie apocalypse, just another Manhattan Snowpocalypse.
As dawn broke, New York City had a ghostly feel to it. No planes flying overhead and no trains running underground made for an unexpected quiet.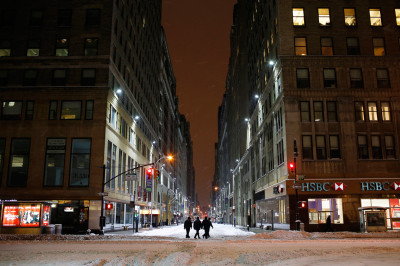 Forecasters had originally warned the storm could be historic, bringing up to three feet of snow and punishing hurricane-force winds.
As it turned out, the promised "life-threatening" blizzard mostly spared the Big Apple, which slowly blinked back to life the morning after the storm.
Travel bans were lifted by mid-morning, and buses, subways and trains were expected to restart later in the morning.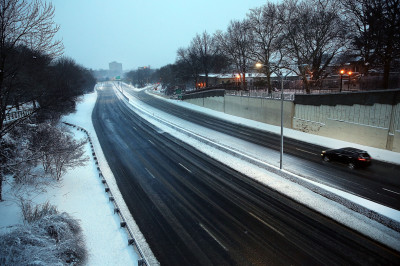 New York's LaGuardia International Airport recorded 11 inches of snow, and Central Park was blanketed with almost eight inches. Those who were up early enough to experience it had the silent park to themselves, before the hordes of kids with sleds invaded it – like packs of hungry zombies.