Amir Khan has admitted that he wants to gain revenge against Lamont Peterson and Danny Garcia before moving up to welterweight where he is targeting a bout with British rival Kell Brook.
The 26-year-old will fight in Brook's home town of Sheffield on April 27 when he faces Julio Diaz, and while he admits he would one day like to face the undefeated welterweight, he first wants the opportunity to reclaim his light welterweight titles.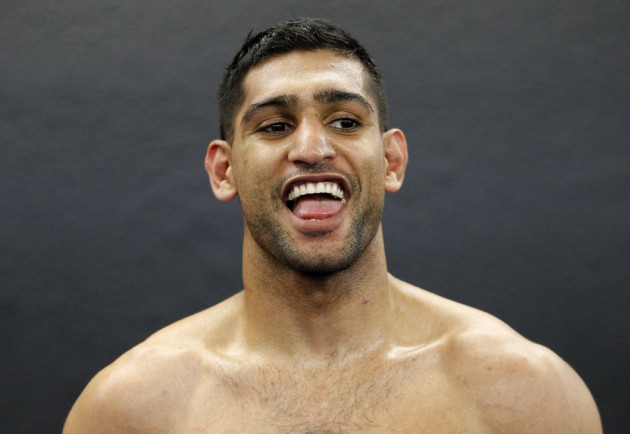 Khan lost his IBF title on a controversial split decision to Peterson before then having his WBA crown ripped away by Garcia in the fourth round of their contest last summer. Should he step in the ring with these two men then he would have the opportunity to unify the division before stepping up to 147lbs.
"I still want to fight at 140 and win titles at that weight and then move up to 147 as a world champion," Khan told Sky Sports. "There are still two fights out there are 140 against Petersen and Garcia - they are fights I want and that are there for me, so I don't see why I should move up."
First Khan must safely come through his homecoming fight against Diaz which will be the first time he has fought on British soil since his sixth-round stoppage of Paul McCloskey back in 2011.
While Diaz is viewed as a relatively easy opponent for Khan, more has been made of his decision to fight in Brook's back yard. The two have exchanged heated words in the past and the former Olympian has once again stirred the pot by suggesting he has more fans in the Steel City than the Sheffield resident.
"Wherever we fight in the UK we will sell out - that's a fact. Brook should not be focusing on my fight," added Khan. "I'm not thinking about a fight with him - he's got a fight with Devon Alexander. He has to be focused on his thing. But it will show I have more fans than him in his home city.
"That's a laugh in his face. I have nothing against Kell Brook. I don't care about him or think about him. He has to prove himself. At the moment he's not on my radar or anything.
"If I move up to 147 then definitely I would fight him, but it's six to nine months before I do move up. When I do, I'm not someone who says no and I would take that fight."
Brook has a contract to face IBF welterweight champion Devon Alexander and will be hoping that contest can he confirmed after the American was forced to cancel the original date due to injury.
Should the 'Special One' manage to win a first world title then there would be a huge clamour for him to face Khan in what would be one of the biggest all-British fights since the days of Chris Eubank and Nigel Benn.