Amir Khan remains confident that he will once again be a world champion as he looks to bounce back from consecutive defeats to Lamont Peterson and Danny Garcia.
It has been a year to forget for the former light-welterweight champion who has once again had his chin questioned, while being forced to reject calls that he should walk away from the sport after a devastating defeat to Garcia.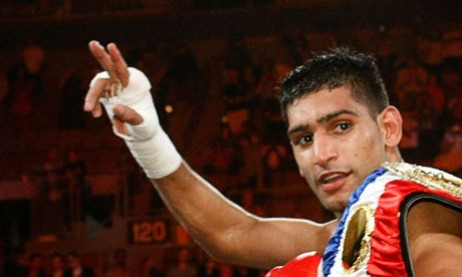 Khan is refocused and has made the bold decision to leave Freddie Roach, the man that took him to world title glory, in order to work with Virgil Hunter and better his defensive skills.
"I can promise you next year we will fight for a world title and win a world title and become a world champion again," stated Khan.
But can Hunter iron out the errors in Khan's offensive style? "Yeah, 100% I think he can. I have done one session with him and it was like going back to what I used to do in the amateurs.
"It's about using your skills and not trying too hard as when you try too hard you start making mistakes. It's about going back to the basics of boxing, keeping your guard up and moving your head right. Then we just go from there."
The former Olympic silver medallist has often been criticised for engaging in fights when he is clearly hurt and should be thinking of his defence. He accepts that at times he gets too brave for his own good and that he must attempt to keep his emotions in check.
"The emotions do get the best of me and I let them. I am not going to let them this time. I am going to be so focused and will stick to the game plan," reveals an excited Khan.
"What I like about Virgil is that he is very aggressive in the corner and he will tell me straight how it is. If I'm not doing something right then he'll get upset, but if I listen to him I know I will win the fight."
Khan's next test is against an unbeaten Mexican-American boxer Carlos Molina. A hungry fighter keen to inflict yet further doubts in the mind of Brit, Khan will be forced to focus and demonstrate the defensive techniques that are badly needed in his armoury.
He must know when to attack and when to avert from danger. Something Hunter's most successful protégée Andre Ward has demonstrated in becoming the undoubted king of the super-middleweight division.
"I know Andre Ward from the amateur days and he had a very similar style to me," explains Khan. "I thought with the way he has adapted then maybe Virgil could do the same and teach me the defensive side.
"I'm an offensive fighter and I need my trainer to teach me the defensive part of training whilst at the same time remaining as offensively good. So that is what we are going to be working on, we know exactly what we have to do. We have never really had a defence if you think about it."
Should Khan safely navigate his way past Molina than there has been talk that he could face either Kell Brook or the returning Ricky Hatton at some point next year.
The 25-year-old has always stated that he wants to be involved in world title fights in the future and he confirmed that a bout with Hatton could still happen if the right circumstances arose.
"There is a lot of talk of me and Ricky Hatton fighting and he is a good friend, but if it had to happen then it would. If the fans want to see it then we'll make it happen," admitted Khan. "But there are a lot of good fights out there for me. It's a business and me and Ricky will treat it that way and maybe for one fight we would put out friendship apart."