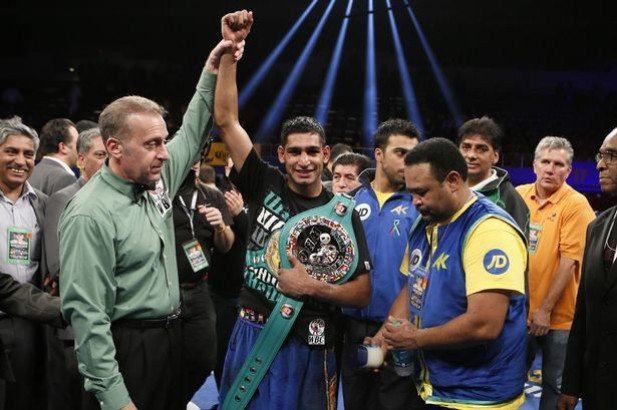 Amir Khan has admitted that he has held talks with the representatives of Floyd Mayweather and Golden Boy promotions about the possibility of facing the undefeated American in the near future.
The Brit got his career back on track with a comfortable victory over Carlos Molina and has outlined his plans for 2013 as he looks to secure more high profile fights with the biggest names in the sport.
Asked whether he still believed a possible bout with Mayweather could happen after two losses in 2012, Khan told the BBC: "Definitely, it's still on the cards. I remember just recently I was speaking to his team and Golden Boy promotions and they are still interested in that fight."
Mayweather remains the biggest draw in boxing and is viewed as the best pound-for-pound fighter in the world after defeating Miguel Cotto, while his main rival Manny Pacquiao lost to Tim Bradley and Juan Manuel Marquez.
However, before Khan can even dream of stepping in the ring with Mayweather, he admits he wants to win world titles in the light-welterweight division and avenge his loss to Danny Garcia.
"It's all about me getting back to winning ways and getting my titles back. I want to get the rematch with Danny Garcia and once we get that then we will hopefully be one fight away from Mayweather," added Khan.
"At the moment I have unfinished business in the 140lb division so I am taking my time. I am going to pick the right fights at the right time as I have made a lot of mistakes in the past and I'm not going to make them again.
"I have changed a lot of things in my training camp which I think will make me a better fighter. So when the time comes for those big fights I'll be ready."
Khan won the WBC silver title against Molina but will hope that he can win back the full version of the title which is currently held by Garcia, along with the WBA crown.
Meanwhile Mayweather has stated that he will fight on two dates in 2013 and has already earmarked May 4 and a date in September.