Roach: Mayweather Will Only Fight Pacquiao in Vegas
Freddie Roach has admitted that it is becoming increasingly unlikely that Manny Pacquiao will ever face Floyd Mayweather as the undefeated American is unwilling to fight outside of the United States.
It was revealed earlier this week by Pacquiao's promoter Bob Arum that the Filipino legend was unlikely to ever fight again in America because of the stringent tax laws that require him to hand over close to 40% of his purse.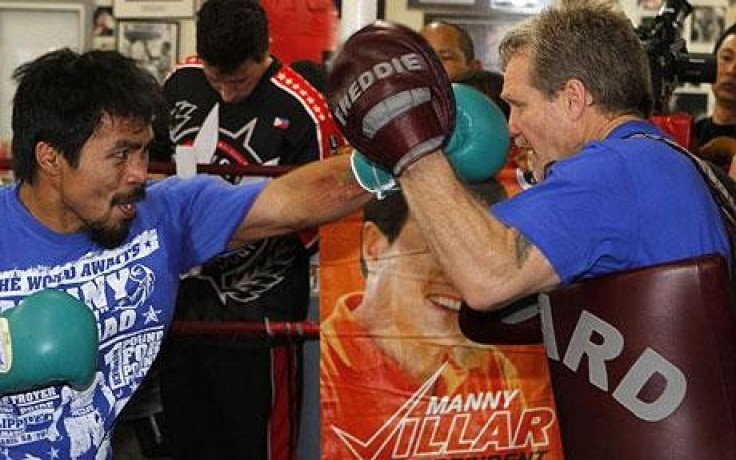 This is likely to further impact the chances of a clash with Mayweather as Roach believes that the current WBA light middleweight champion does not even like to fight outside of Las Vegas, let alone the States.
"The one thing about Mayweather is he will never fight anywhere but Las Vegas," the legendary trainer told Sport360. "He made that clear in the past when we were in talks. So I don't think a fight between him and Manny could ever happen anywhere but the States."
A fight between the two modern day greats had seemed like a genuine possibility in previous years, with representatives of the two men opening negotiations on a number of occasions.
Fight fans will still love to see the two enter the ring, despite Pacquiao losing his last two fights to Timothy Bradley and Juan Manuel Marquez, and it would certainly profit both boxers financially because of the huge box-office numbers it would attract.
However, it now appears more likely that Pacquiao will begin discussions over a fifth bout with Marquez which could happen as early as April.
Roach revealed yesterday that there was an offer of $10million for Pacquiao to fight in Dubai, while Arum has suggested that the epic encounter could well take place in either Macau or Mexico City.
© Copyright IBTimes 2023. All rights reserved.