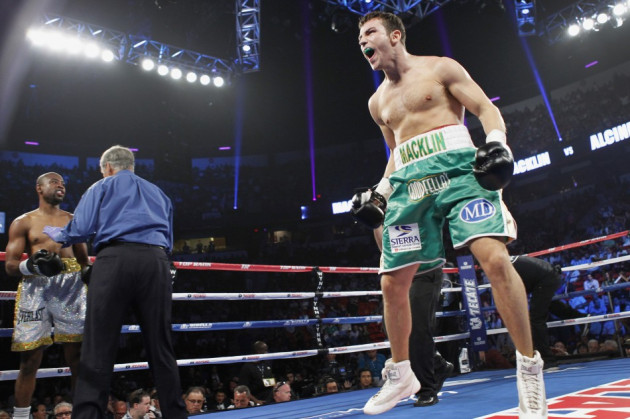 Matthew Macklin will be hoping that it is third time lucky when he steps in the ring with WBA middleweight champion Gennady Golovkin this Saturday in Connecticut.
The Brit has twice had the opportunity to win a world title but has fallen agonisingly short on both occasions. Macklin believed Felix Sturn was handed a home decision when the two clashed in Germany, before he lasted 11 rounds against middleweight king Sergio Martinez.
It will be an equally tough night for Macklin this weekend when he steps in the ring with one of the most feared punchers in the sport. Golovkin has stopped 23 of his 26 opponents and has compiled an impressive unbeaten professional record after starring in the amateurs for a number of years.
The 31 year old Golovkin will be looking to make another major statement by stopping Macklin, but the fighter from Birmingham believes he can finally realise his dream to become a world champion.
"I'm enjoying performing on this stage after many, many years on those undercards, six-round fights when the cameras weren't on," Macklin told Sky Sports.
"I'm reaping the rewards now and the only thing that's missing is that world title. I should have had it against Sturm - didn't. I had another chance against Martinez and came up short, but everything happens for a reason.
"I'm in great shape, enjoying the build-up and come Saturday I'm going to be the new middleweight champion of the world."
While Golovkin is renowned for his punch power, Macklin also has the physical attributes to stop a number of his opponents as seen with the one round demolition of Joachim Alcine last year.
With both men wanting to come forward Macklin believes there will be fireworks and that it could even be a contender for fight of the year.
"All the ingredients are there: two physically strong, big-punching middleweights that want to do damage to the other guy," added Macklin.
"I want to fight. I'm not really a point-scorer, I'm looking to take the other guy out - as he is. I think you can definitely expect fireworks, and don't be shocked if it's fight of the year."