Manny Pacquiao has suggested that there could yet be a fifth fight against Juan Manuel Marquez after revealing that he will return to the ring in September.
The 34-year-old has taken some time away from the ring after suffering a brutal knockout at the hands of the Mexican in December last year. It was rumoured that he may even walk away from the sport to concentrate on a political career but it seems he still has the hunger to continue boxing.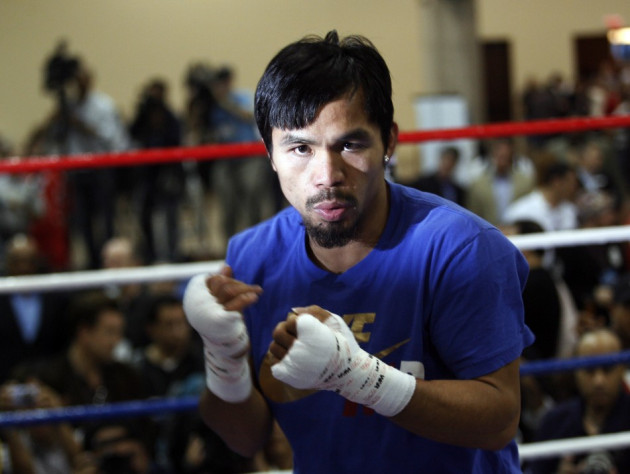 Pacquiao revealed that he has been in discussions with his promoter Bob Arum as he attempts to secure a bout in September.
"Tell them [the fans] to be patient. Bob and myself have been talking and will continue talking. What is definite is they'll see me fight again come September," said Pacquiao, as quoted in the Manilla Examiner.
"Not April nor immediately after that as speculations are going. Tell the public that it won't be long before I make them happy again when I fight.
"Tell them, too, that I appreciate very much their concern over my well-being when I lost by a knockout to Marquez and during the debate whether to fight in April. I treasure their concern and prayers that I recover quickly from my knockout loss. I want everyone to know that I am well and fully recovered. Thank you very much for everyone's prayers."
There was some speculation that Pacquiao would walk away after two consecutive losses, but the eight-division world champion is clearly keen to resurrect his rivalry with Marquez and secure a fifth bout.
"Marquez, according to news reports, doesn't want to fight me for the fifth time. It actually is up to him," added Pacquiao.
"Me? Well, everybody knows I'll fight anyone. I am not scared of anybody. And that is the reason why boxing fans like me so much. I never avoid anyone. I don't choose easy fights. I will fight anybody, anytime, anywhere.
"If he doesn't want to fight me then I don't want to fight him either. So be it. It's that simple. He says he doesn't want to fight me because he won our last fight? Well, I am still ahead in the tally of our last four fights. I won two, lost one and drew one."
Pacquiao first fought Marquez back in 2004 in an exciting contest that was eventually ruled a draw, before winning their next two encounters in controversial circumstances.
The Filipino has warned that he is unlikely to fight in the United States because of the heavy taxation laws and has previously suggested that a fight in Dubai could be on the cards.