Legendary trainer Freddie Roach has revealed that his fighter Manny Pacquiao has receieved a huge offer to stage his next fight in Dubai.
Despite two consecutive losses, one in controversial fashion to Tim Bradley and the other a brutal knockout at the hands of Juan Manuel Marquez, Pacquiao has refused to walk away from the sport and the possibility of a fifth bout with the Mexican legend Marquez has been mentioned.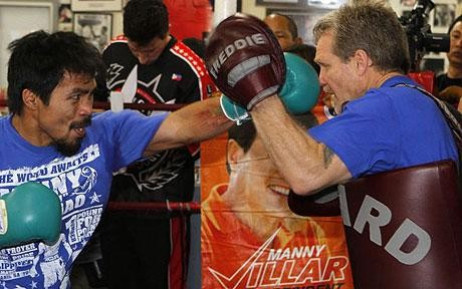 However, it is looking increasingly likely that Pacquiao's next contest will take place outside America and it seems Dubai has emerged as a genuine candidate to hold the mega-fight as an offer has already been tabled.
"I got a phone call from someone in Dubai on Monday, who offered $10million for Manny to fight there in April," Roach told Sport360.
"But I told him to call (promoter) Bob Arum because I don't make his fights; I just get him ready.
"A place like Dubai for a fight could be great. It's a great location for pay-per-view and TV networks and it would be seen worldwide.
"There would definitely be a lot of interest for a fight to take place there so it has the potential to be a great event."
Pacquiao is no stranger to fighting outside of the US as he spent years learning his craft while fighting in the Philippines. However, his last 14 fights have all been in America, with Las Vegas becoming his home away from home.
This time around it seems Vegas, or any other US State, is out of the question as Pacquiao's promoter, Bob Arum, admitted that the tax laws meant that they would be looking to another country to hold the fight.
"He doesn't want to fight in the United States," revealed the Top Rank boss. "How come? Because he'd have to give close to 40 per cent to the government. It's getting ridiculous. As far as Manny is concerned, and Marquez, they would prefer that the fight not be in the United States."
While many have called for Pacquiao to take some time away from the sport, it seems the Filipino legend it determined to make a triumphant return to the ring in April.
"They were discussing if they could host it in Macau, but it isn't possible so that won't be happening now. But he wants to fight in April. He's anxious and wants to get back into the ring. I told him we might have to wait a little while," added Roach.
"I want him to wait and rest a bit because that was a bad knockout so I think September would be a better date. But if he feels he is ready to fight in April then we'll get him ready for that."