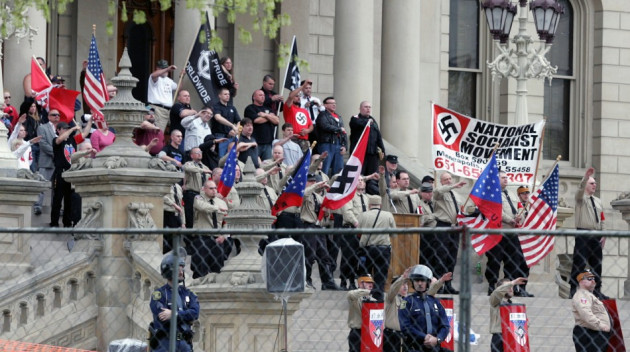 The trial of a 12-year-old boy who shot and killed his neo-Nazi father as he slept on the sofa at their home has begun in California.
Joseph Hall is accused of murdering his father Jeff, regional leader of the National Socialist Movement, by shooting him with a snub-nosed revolver at their home in Riverside County, California on 1 May 2011. Joseph was 10 at the time of his father's death.
Joseph confessed to the killing, but told detectives he did it because he suffered years of physical and psychological abuse at the hands of his father. His defence lawyers have argued the boy thought that what he was doing was right and therefore cannot be held responsible for the crime of murder.
Joseph's lawyer, Matthew Hardy, told the New York Times: "He's been conditioned to violence.
"You have to ask yourself: Did this kid really know that this act was wrong? He thought what he was doing was right, and while that may be hard for other people to understand, in his mind, in a child's mind, if he thought it was right, or at least didn't think it was wrong, then he cannot be held responsible."
Prosecutors argue Joseph's actions have nothing to do with his father's involvement with Nazism. His father, who had Nazi insignia tattooed on his head, unsuccessfully ran for election to the local water board.
During his campaigns, Jeff took his son to rallies where they could both be seen giving Nazi salutes.
Chief deputy district attorney Michael Soccio argued the boy clinically killed his father after he was punished and spanked by his father at party the day before the killing. The boy's stepmother told authorities that Hall often hit, kicked and yelled at his son for being too loud or getting in the way
Soccio also said the boy told authorities he thought his father would leave his stepmother and he did not want the family to split up.
Soccio said: "He decided, as he put it, it was time to end the father-son thing.
"This child started at five years old being expelled from school for violence. His violence started way before his dad ever joined any Nazi party.
"What he did, had it been done by anybody older, there would be no doubt that it was a murder.
"It's planned. It's premeditated. It was carried out in a cold, killing fashion. It is a murder."
Soccio, citing a history of violent behaviour including choking a teacher with a telephone cord, wants to keep Joseph incarcerated as long as possible. If held responsible, the boy would become the youngest person currently in the custody of the state's corrections department.
If a judge decides the boy should be held responsible for his father's murder, he could be held in state custody until he is 23 years old.