Boys school teacher 'surprised' after Milo Yiannopoulos talk is cancelled
Humanities prof 'somewhat surprised' by call from the Department for Education's counter-extremism unit.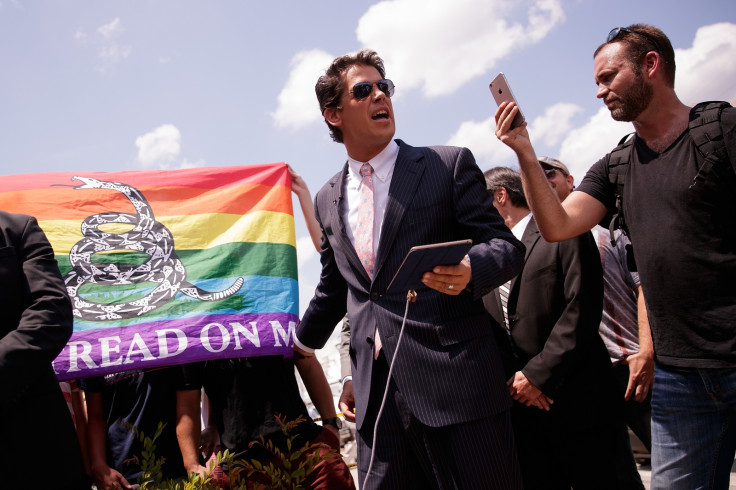 A teacher who drew criticism this week for inviting right-wing columnist Milo Yiannopoulos to speak at an all-boys school is defending the event after it was cancelled on Monday (21 November).
"We have an active debate society who last week debated the rights and wrongs of Mr Yiannopoulos," said James Soderholm, a Professor of Humanities at Simon Langton Grammar School for Boys in Canterbury.
After Yiannopoulos' visit "our Langton Politics Society, Langton Feminist Forum and Faculty of Langton Economists were intending to hold debates and discussions," said Soderholm, who organised the event. Teachers, he added, spoke to the 16 to 19-year-old students about Yiannopoulos' "ideas and what they could expect."
Yiannopoulos is a conservative British writer who works for the right-wing US website Breitbart. He calls feminism "cancer" and describes alt-right white nationalists as "a very young, vibrant, exciting new movement."
The alt-right is making waves after a video emerged of some of its members giving the Nazi Party salute to celebrate President-elect Donald Trump's election win at conference last Saturday (19 November). Trump disavowed the group in an interview Tuesday.
Yet Soderholm said he was "somewhat surprised" after the school received a call from the UK Department for Education's counter-extremism unit (DfE). The school, Soderholm notes, has invited speakers from a "wide gamut of the political and academic spectrum" and there was "never a hint of any problem with this vast diversity of ideas ... raised in the past."
Students are exposed to everything from Classical Greek Philosophy and the Renaissance, to Marx, Freud and Feminism, to Philosophy of Religion, Aesthetics, Existentialism and Philosophy of Science, Soderholm said.
Yiannopoulos 'disgusted' after debate is cancelled
A statement about the cancellation from the school's head teacher Dr Matthew Baxter said pressure came from outside the school community. "The threat of demonstrations at the school by organised groups and members of the public," he said, along with the extremism unit call, forced the cancellation over "concerns for the security of the school site and the safety of our community."
Originally the school said the talk would not be cancelled because the institution "does not practice censorship." The call from the DfE was prompted by law under the British Counter-Terrorism and Security Act, which says that certain authorities, like the DfE, are required to warn educators about speakers with "extremist ideas."
"When concerns are raised by members of the public following media coverage in advance of an event," said a DfE spokesperson, "the department would contact the school as a matter of routine to check they had considered any potential issues." The ultimate decision to cancel the event, they said, was up to the school.
Yiannopoulos, who is openly gay, weighed in on his Facebook page. "Who even knew the DoE [sic] had a counter-extremism unit? And that it wasn't set up to combat terrorism but rather to punish gays with the wrong opinions? Perhaps if I'd called the speech 'MUSLIMS ARE AWESOME!' they'd have left us alone. Disgusted."
Solderholm said "Milo can respond as he sees fit" and emphasised that that the school's most recent speaker was Dr Stella Bolaki, who talked about the ideas of African American Civil Rights and LGBT activist Audre Lorde. Other speakers include Natalie Bennett, leader of the UK Green Party; Rod Liddle, associate editor of The Spectator; Mervyn King, former governor of the Bank of England; and feminist theologian, Anna Fisk.
They "represent a variety of views that some might consider contentious," said Solderholm, "nevertheless, they are given their platform and then are rigorously questioned by our students".
© Copyright IBTimes 2023. All rights reserved.