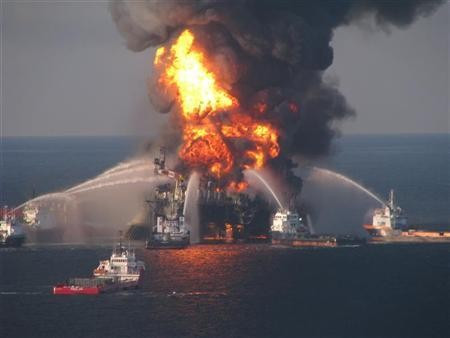 Oil giant BP is on the cusp of a near-$7bn (£4.4bn) deal to sell some of its Gulf of Mexico oilfields, as it seeks to raise the cash needed to pay off a huge damages bill for a disastrous spill at its Deepwater Horizon rig in 2010.
Plains Exploration & Production Co. is in advanced discussions with BP about the possible purchase according to Bloomberg, and a deal could be settled within days.
However, it is also reported that BP's assets attracted considerable interest from several parties, and an alternative buyer could emerge before the Plains deal is signed.
BP said in May that it wanted to sell off some of its Gulf of Mexico fields to meet part of the financial cost of the Deewpater spill - the largest in American history.
The total financial cost of the spill, which took place on the Macondo Prospect off the coast of Louisiana and continued unabated for three months, is still to be finally determined, as the US Justice Department chases BP through the courts in a clash over civil and criminal liability.
The US Government has accused the company of "gross negligence and wilful misconduct" in the build-up to the spill, while the Justice Department said that "the behaviour, words and actions of these BP executives would not have been tolerated in a middling size company, manufacturing dry goods for sale in a suburban mall."
Although it was reported in June that BP and the Justice Department were close to a deal, no agreement has yet been reached and it seems the dispute will end in a formal trial in January. The US Justice Department is said to be holding out for $25bn in compensation.
BP has already had a settlement package worth $7.8bn preliminarily approved by the courts, relating to claims made by 125,000 businesses and individuals who suffered health and financial problems because of the spill. The multi-billion settlement, which was agreed in May, is awaiting final approval which is likely to be granted in November.
However the settlement as it stands will still allow those who are not happy with the deal to opt-out and take up their own legal action against BP. American investors who claim the firm lied about its ability to cope with a major oil spill have been given the right to launch related fraud suits.