Tour de France winner Bradley Wiggins says Mark Cavendish must leave Team Sky should he wish to further his cycling career.
Team Sky prioritised the winning of the yellow jersey during the tour, at the expense of Cavendish's attempts to retain the sprint jersey, which resulted in him winning just three stages.
Cavendish publically bemoaned the strategy, while adding he was happy to be a team player, and the beneficiary from his selflessness; Wiggins, says the Isle of Man-born rider must move teams to fulfil his ambitions.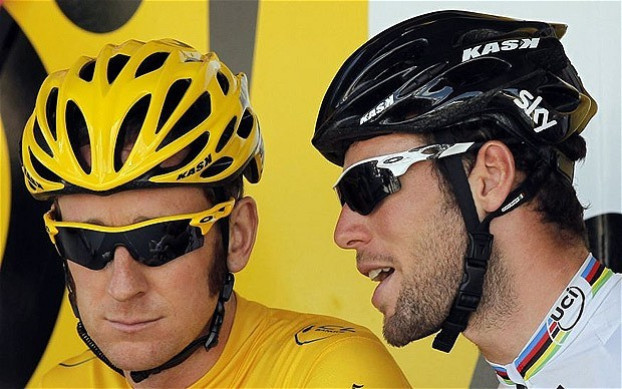 "On a personal level I have enjoyed riding with him, but I understand why he would probably have to leave," Wiggins said.
"I love seeing him win as much as anyone else and to see Mark back out on the Tour (de France) winning six, seven or eight different stages and challenging for the green jersey, he probably has to go."
The 27 year old has won 23 stages of the Tour de France and will be aiming to add to his tally as he attempts to over Eddy Merchx as the most potent stage winner in tour history.
However, his opportunities to win sprint stages are liable to be restricted as Team Sky plan a stronghold of the yellow jersey, with Chris Froome set to take the mantle next year.
"Sky have set a precedent now, if we're going to dominate cycling and try to win all three grand tours," Wiggins added.
"I suppose we have to start building towards the GC and, unfortunately for Mark, as we saw in the Tour, the two don't really go well together."
Wiggins meanwhile will return to the road for September's Tour of Britain after an extended break from the sport following his Olympic time trial victory.
"I'm doing the Tour of Britain now," the 32-year-old was quoted as saying by Sky Sports. "I'll try to stay fit between now and then so I don't embarrass myself. It'll be good."
The eight-stage race takes place from the 9-16 September, starting in Ipswich and ending in Guildford and is the first opportunity for British fans to see Wiggins in action since his Olympic gold triumph.