Chelsea pair Frank Lampard and Branislav Ivanovic will both be rested for the Europa League last 32 second leg against Sparta Prague ahead of the Premier League trip to Manchester City this weekend.
Courtesy of Oscar's goal in the Czech capital last week The Blues take a one-goal advantage into the second leg at Stamford Bridge.
But both Lampard, who after scoring in the win over Bradford City took his career tally at Chelsea to 199, and Ivanovic will be left out of the return game, with interim boss Rafa Benitez conscious of tiredness at the back end of the season.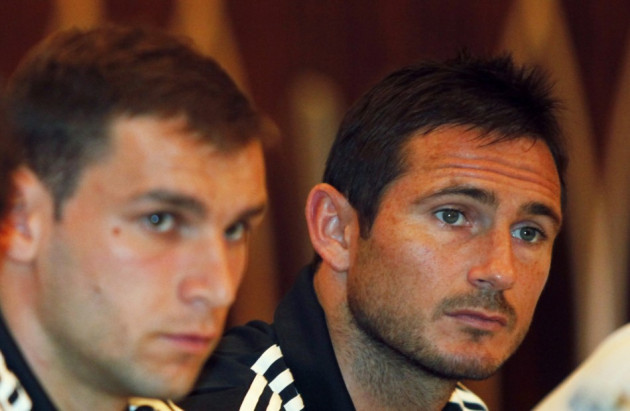 "It's important to be fit and train properly, and Frank will not be in the squad tomorrow as we have to manage the group and think about all the other games," Benitez said.
"Obviously Demba Ba is unavailable, but Branislav Ivanovic will also not be involved.
"To play every game because we didn't have the options is a problem, but at least now we will have fresh legs almost for every game.
"We've played so many games, 25 in three months. We can't train how we would like to, and then you have to carry on and play the next game.
"Still we are improving a lot of things but you have to keep on winning games. As soon as you lose or draw everything changes, but the team is working very hard, the staff are working very hard and I think we are going in the right direction."
Chelsea will be expected to bypass Sparta in the second leg and book their place in the last 16 where they could face either Ajax or Steaua Bucuresti.
Lampard, now three behind record scorer Bobby Tambling, will have to wait until Sunday to add to his tally and Benitez is delighted the Chelsea favourite to netting with such regularity.
"If Frank can score a lot of goals it will be fantastic for him and us," said Benitez. "Everybody knows he's close, I'm sure the players will want to help if they have a chance. The main thing is he's doing well and scoring goals.
"It's impressive for anyone but especially a midfielder. He's a player who likes to go forward and his accuracy is really good."