Michel Temer has been Brazil's interim president for only a day and he has already earned a negative reputation. The vice president who replaced Dilma Rousseff following her impeachment and suspension on 12 May is not a favourite with the Brazilian public, who according to USA Today, already want him impeached.
Temer, 75, will hold his new position while Rousseff awaits trial and in case she is found guilty of violating Brazil's public-spending laws, he will serve out her term until the next elections in 2018. And while the new leader has his plate full with the country's financial and health crises, his association with the Petrobras bribery scandal is not winning him any brownie points.
The acting president's name was not included in a list submitted to the Supreme Court of key politicians accused of taking bribes from Petrobras, but his party, the Brazilian Democratic Movement Party (PMDB), was deeply involved in the graft during the period when he was its president.
"Temer himself has been accused of corruption, whereas (Rousseff) has never been accused of personally accepting bribes or kickbacks," said John Stone, a professor at the University of Buffalo who lived in Brazil for 17 years. "In Brazil he is pretty unpopular."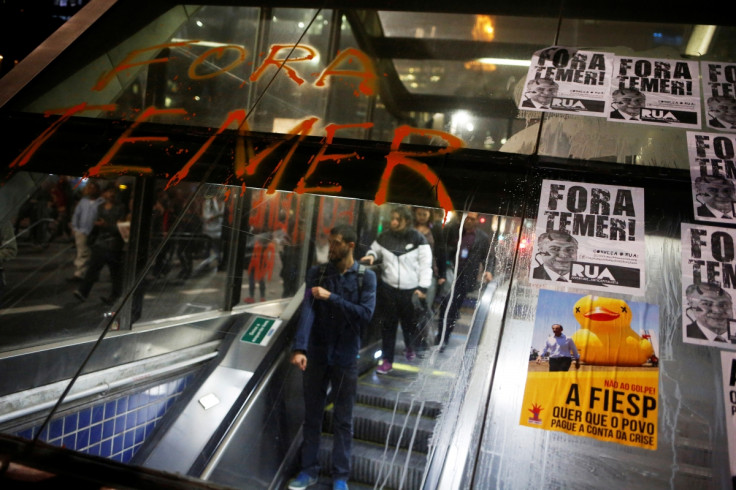 According to a poll conducted by Brazil's Folha de S Paulo newspaper in April, while 60% of respondents supported Rousseff's impeachment, 58% wanted to get rid of Temer, as well. And it's not only because of his links to the Petrobras scandal. Many Brazilians simply do not like the way he looks or the fact that he has a wife (Marcela Tedeschi Temer) who is more than 40 years his junior.
The public is sceptical of his restrained manner and the leftists often refer to him as "The Butler" because he reportedly resembles a campy horror movie character. A number of Facebook users have shown their dislike for their new president by flooding his social media page with vomit emoticons.
While some people like Brazilian psychoanalyst Jacob Goldberg believe Temer will be able to turn around the public opinion of him, others are already picking apart the choices he has made for his new cabinet.
Unlike Rousseff's cabinet, the new administration has no women in important roles and there is a lack of Afro-Brazilians as well. "It's embarrassing that most of Temer's cabinet choices are old, white men," said Sérgio Praça, a political scientist at Fundação Getulio Vargas, as quoted by the New York Times.