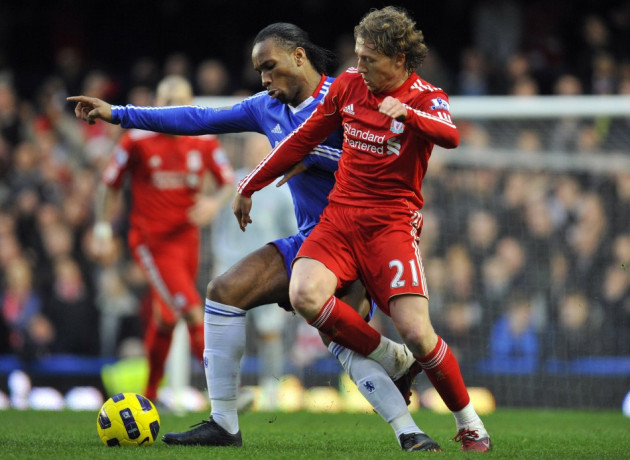 Liverpool midfielder Charlie Adam will have a new partner in central midfield when he takes to the field for Monday night's Premier League match against Fulham.
Lucas Leiva's knee injury means Adam will play without the Brazilian for only the second time this season. The pair have started 12 of the Reds' previous 13 league matches alongside each other.
Jay Spearing is expected to make his first league start of the season as Lucas begins his recovery from a cruciate knee ligament injury that is expected to see him side-lined until August.
"We are all really sad for Lucas because he's been one of the best players for us again this season," Adam told Liverpool's official Web site.
"He's gutted and he knew when he got the injury it didn't feel right, but we are all behind him and giving him support. He's a terrific player and it's a big blow for us.
"He is going to be a loss but I texted him the other day and told him he will come back stronger mentally, and physically a better player."
Liverpool are looking to equal a club record seven consecutive away victories at Craven Cottage tonight.
Manager Kenny Dalglish is likely to name Spearing in his starting-XI with Liverpool captain Steven Gerrard still absent with an ankle injury.
Liverpool defender Jamie Carragher has backed Spearing to fill the void in midfield and to ensure the club's 11 game unbeaten run at Fulham continues.
"It's up to someone else now to come in and try to do as good a job as Lucas was doing," Carragher told the Liverpool Echo. "That won't be easy as he's been as good as anyone in that position in the Premier League this season.
"But Jay Spearing was outstanding towards the end of last season. He was superb in our win at Fulham. In the Carlin Cup this season he's also done really well. He has started away to Stoke and Chelsea - that's two of the toughest away games you can get in the Premier League.
"No-one will be worried one bit about putting Jay in there. He's proven before that he's more than good enough at this level and I'm sure he will prove it again."