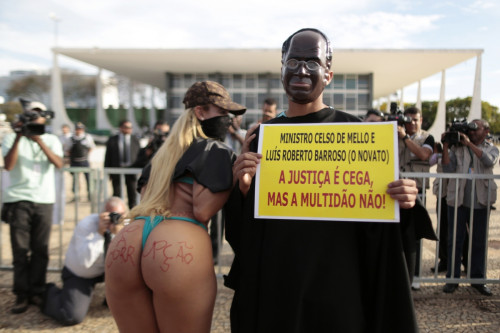 Brazil could lose up to £32 billion to corruption this year, a figure that if invested in health could double the number of hospital beds, or house 2.9 million families, official figures reveal.
A recent study by the Federation of the Industries of the State of Sao Paolo revealed that the South American country loses 1.38%-2.3% of its GDP to kickbacks and bribes annually.
With a GDP of £1.36 trillion in 2012 predicted to rise by 2.5% this year, the country could thus lose between £19 billion and £32 billion this year alone.
Much of the money is lost to corrupt tax officials, who are bribed to reduce corporations' tax liabilities, or land officials, who are illegally paid by construction companies to circumvent zoning laws.
According to figures in Forbes magazine, if the money were invested in Brazil's education system, the number of students enrolled in school could be increased from 34.5 million to 51 million.
If invested in health services, the number of beds in public hospitals could rise from 367,397 to 694,409. The sum could also be used to rehouse millions living in shanty towns, or if invested in sanitation, connect 23.3 million households to the public sewage system.
Transparency International gives Brazil a 43 rating on its corruption scale, which is worse than Cuba.
The country is still reeling from the 'mensalao' scandal, in which senior politicians were jailed for paying bribes to secure support for then president Lula de Silva from opposition party members.
The country was recently entranced by a scandal in which a tax official admitted to receiving bags of cash in bribes from land developers which he spent on prostitutes, sports cars and luxury holidays.
There was widespread rioting throughout Brazil last year, as protests against corruption and perceived wasteful spending on new World Cup 2014 stadiums turned violent.