In a fresh blow to the political stability in Brazil, which is going through its worst financial crisis, President Michel Temer has been charged over an alleged multi-million bribery scandal by the country's chief prosecutor.
Temer was elected to the office about a year ago to replace former president Dilma Rousseff, who was impeached after being indicted in the country's biggest graft scam centring around the Petrobras oil company.
On Monday (26 June), top federal prosecutor Rodrigo Janot charged the president for receiving a total of 38m Brazilian reais (£9m, $11.5m) as bribe from meatpacking company JBS SA. He allegedly took the bribes for resolving tax matters, freeing up loans from state-run banks and other matters.
Janot, while submitting the documents to the Supreme Court, accused Temer of fooling the citizens by accepting the bribes.
Temer's office and his attorney, Antonio Mariz, reportedly declined to comment on the charges. The president, however, has maintained that he is innocent, Reuters reported.
Brazil's federal police released a separate document on Monday containing a conversation between Temer and Joesley Batista, one of the brothers who control JBS. The audio recording from March reportedly showed the president discussing bribing a potential witness.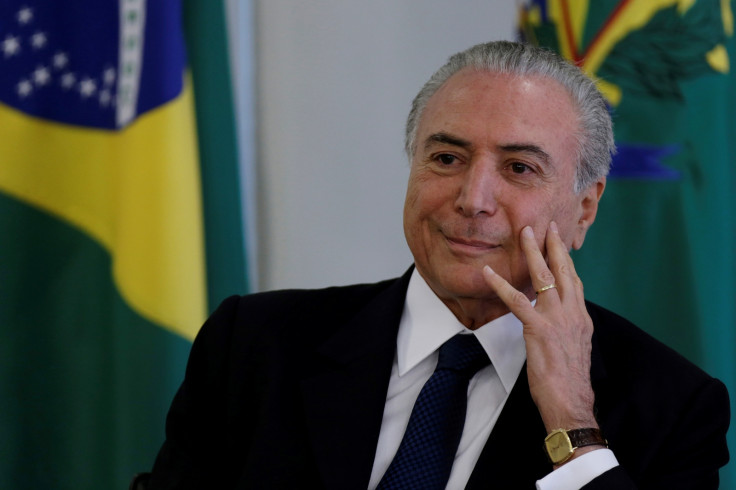 In another part of the recording, Temer is heard telling Batista that it was mainly because of his influence that he appointed Henrique Meirelles as finance minister in his cabinet.
Apart from Temer, one-third of his cabinet and four former presidents in the country have already been indicted or charged in different graft cases. Lawmakers from other parties are also accused of involvement, with over 90 high-profile people already convicted in the past few years.
Temer's popularity in the country has been on the decline since graft allegations began surfacing against him soon after he took over the president's office in August 2016.
Meanwhile, in accordance with Brazilian law, the lower house of Congress will now vote on whether to allow the Supreme Court to try Temer in the graft case.
His supporters from the coalition government are confident they have the two-third majority required in the parliament to block a trial. However, if voting is conducted several times as the president is expected to soon face charges of racketeering and obstruction of justice that require separate voting, support may wane out, they warned.