Many Brazilian cities, including Rio de Janeiro and São Paolo, witnessed violent protests on Friday (28 April) against President Michel Temer's efforts to push for austerity measures through Congress.
The day marked the nation's first general strike in over 20 years that hit all 26 states and the Federal District.
Masked protesters torched buses and clashed with police who had to fire tear gas shells and use rubber bullets to disperse the crowd. The demonstrators also staged protests near Temer's house in São Paolo. However, despite the widespread violent riots, the president and members of his centre-right government called the strike a failure.
They denounced the strikers for torching public transport vehicles to prevent people from going to work. At least eight buses were set on fire in Rio, according to Reuters.
Temer, who was vice president in the Dilma Rousseff government, took over the reins of the country in August 2016 after the latter's impeachment over involvement in financial irregularities. The country was already dealing with a financial crisis and the impeachment sparked a more complex political crisis.
Temer, who too faced corruption allegations, is reportedly pushing through the austerity measures in an attempt to bring the country out of the financial crisis, but many citizens lack faith in the government and took to the streets to protest against his proposed measures, which include relaxing restrictions on outsourcing and temporary contracts and extending the retirement age but reducing pension benefits.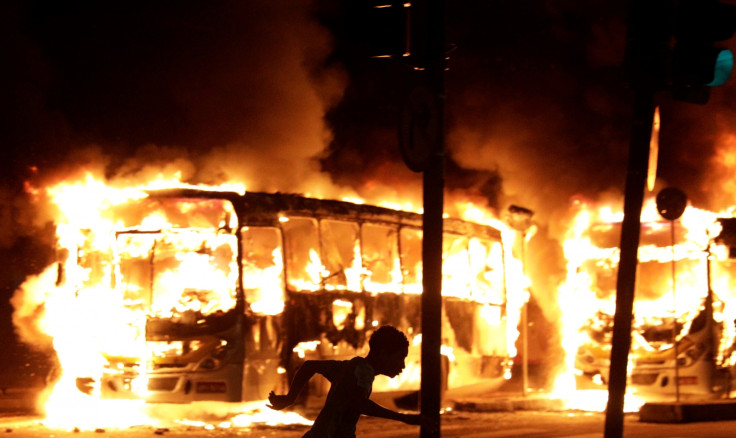 The lower house of Congress has already approved the bill, evoking strong objections from labour unions.
"This is not a government that was elected with these proposals," Bernard Costa, a 27-year-old medical student protesting in São Paolo told Reuters. "These reforms are showing people that this government is neither legitimate nor representative."
Meanwhile, the unions that called the strike termed it a success, citing the near shutdown of the automobile and petroleum industries, schools and the banking sector.
"It is important for us to send a message to the government that the country is watching what they are doing, taking away workers' rights," Marco Clemente, head of the 4,000-member radio and TV workers union in Brasilia, said.
The last general strike in the Latin American country took place in 1996 against privatisation and labour reforms proposed by then president Fernando Henrique Cardoso's government.