Brazil rocked by fresh allegations of Dilma Rousseff offer to Lula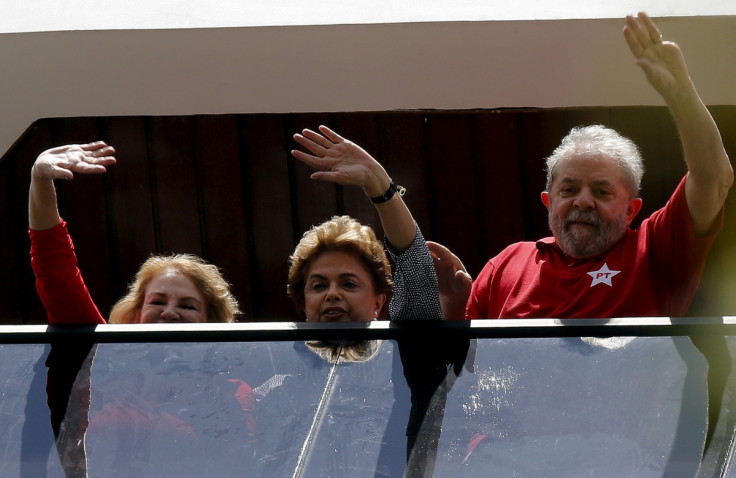 Brazilian President Dilma Rousseff allegedly offered her predecessor, Luiz Inácio 'Lula' da Silva, a top role in the government so as to keep him immune from any prosecution in the sprawling corruption scandal. Explosive disclosures made by a high-profile judge have the potential to even bring down the Brazilian government, which is already tainted by the scandal.
A phone conversation, which said to have taken place on the afternoon of 16 March, between Rousseff and Silva, was released to the media by Judge Sergio Moro, the lead prosecutor who is waging a crusade against political corruption in Brazil. The revelations were made within hours of the official announcement that Silva was given the post of chief of staff. Silva is currently under investigation for corruption and money-laundering cases.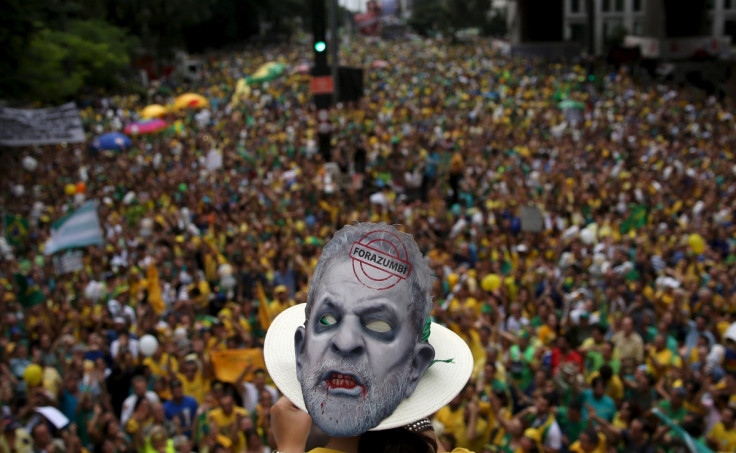 A demonstrator wears a mask depicting Brazil's former President Luiz Inacio Lula da Silva during a protest against Brazil's President Dilma Rousseff, part of nationwide protests calling for her impeachment, in Sao Paulo, Brazil
Nacho Doce/Reuters
In the recording, the Rousseff is heard saying that Silva will be offered the post of chief of staff "just in case of necessity" – a move widely interpreted as Rousseff's attempt to shield him from any prosecution. Silva's appointment means he gets a special judicial status in which only the country's Supreme Court can ratify a probe or imprisonment, making it harder for prosecutors to touch him. Rousseff was the chief of staff for Silva between 2005 and 2010.
Though Silva has not been sworn in for the post, his name has appeared in a special edition of the government's official gazette, suggesting he has already assumed the post. The phone taps are the latest in the political drama being played out in Brazil, where impeachment proceedings against Rousseff are also underway.
Silva's appointment has led to chaotic scenes in Brazil's Congress as opposition forces have demanded Rousseff's immediate resignation. Tens of thousands of anti-government protesters have started gathering in major cities such as Sao Paulo and Brasilia to step up their efforts to bring down the Rousseff administration.
The South American nation was already rocked by massive demonstrations on Sunday (13 March) when between one and three million protesters took to the streets against the government.
Transcript of call between Rousseff and Silva which took place 16 March
Rousseff: Hello.
Silva: Hello.
Rousseff: Lula, let me tell you something.
Silva: Tell me, my love.
Rousseff: It's this, I am sending Messias [Jorge Rodrigo Araújo Messias, deputy head of legal affairs at the cabinet office] round with the papers, so that we have them, just in case of necessity, that is the terms of office, right?
Silva: Uh-huh. Ok, ok.
Rousseff: That's all, wait there, he is heading there.
Silva: OK, I'm here. I'll wait.
Rousseff: Right?
Silva: OK.
Rousseff: Bye.
Silva: Bye, my love.
© Copyright IBTimes 2023. All rights reserved.