Michel Temer, the interim president of Brazil, is the latest to be implicated in the Petrobras graft case, which is said to be the biggest corruption scandal in the country. Temer's alleged involvement poses a threat to his chances of being named the president.
A former Petrobras executive has reportedly alleged that the acting president had sought campaign donations for a political ally. However, Temer has denied the allegations.
In his plea deal, former Petrobras executive Sergio Machado has alleged that the campaign contribution sought by Temer, although made legally by engineering group Queiroz Galvao, resulted from a kickback on contracts with the state oil company, Reuters reported, citing the testimony that was made public by the Supreme Court on Wednesday (15 June). However, denying the allegations, Temer's office maintained that the interim president had always followed campaign finance laws.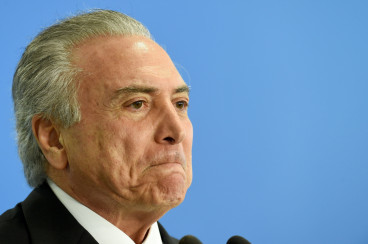 "The context of the conversation made clear that what Michel Temer was arranging with (Machado) was for him to solicit illegal funds from companies that had contracts with Transpetro in the form of official donations," Machado's signed testimony reads. Experts believe that the impact of the allegations get somewhat diluted from the fact that Machado said Temer sought a legal donation.
The scandal centred on the state oil company has led to a massive political turmoil in Brazil with calls for impeachment of suspended president Dilma Rousseff. Her impeachment trial is expected to take place in mid-August. Political experts reportedly believe that there are high chances she will be removed from office and despite Temer's implication in the case, he has about 90% chances of being named the president for the remainder of Rousseff's term until 2018.
The two-year-old probe, known as "Operation Car Wash", has led to several arrests of top corporate executives. Two ministers from the month-old interim government – Fabiano Silveira, transparency, supervision and control minister, and Romero Juca, planning minister – have also resigned after being accused of obstructing or interfering in the investigations.