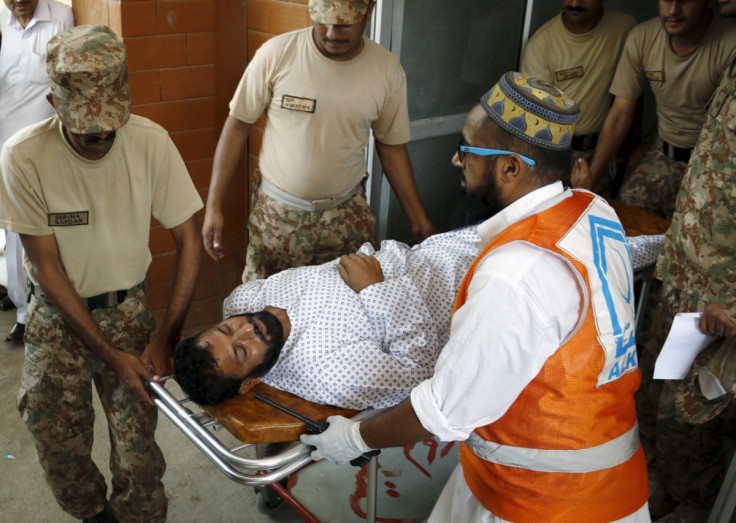 Militants who stormed an air force camp in the Pakistani city of Peshawar have killed 16 worshippers at a mosque inside the base. Pakistan said its forces shot dead 13 militants belonging to the Tehreek-e-Taliban.
The group, also known as Pakistani Taliban, claimed responsibility for the attack on the Badaber air force base – originally a CIA post built in the 1950s to eavesdrop on the former Soviet Union – early on 18 September. It was not clear if the casualties inside the mosque were civilian or military.
Major-General Asim Bajwa, director-general of Inter-Services Public Relations (ISPR), had originally said between seven and 10 gunmen attacked the base. But the Tehreek-e-Taliban, in an email to media, claimed sending 14 men to carry out the attack, according to Pakistan's Express Tribune.
"#COAS arrives Psr. 13 terrorists killed so far after have been surrounded. Bodies lying in the compound," Bajwa tweeted, referring to chief of army staff, Gen. Raheel Sharif. Pakistan suffered a casualty -- identified as Capt Asfandyar by Bajwa. Some reports say two officers died in the attack.
A senior PAF official said an operational radar station at the air base had been the initial target of the attack. "The attack was planned by Qari Saifullah group and a threat alert had been issued a week ago," a senior security official told The Express Tribune on the condition of anonymity.
Bajwa said clearance operations were in progress after the attack in which 10 soldiers were injured. In an earlier tweet, he said Maj Haseeb of QRF (Quick Reaction Force) had suffered a bullet wound in his thigh.
Peshawar, about 190km north west of the Pakistani capital Islamabad, was last year the scene of the country's deadliest attack. Pakistani Taliban militants stormed the Army Public School and killed over 150 people, mostly children.