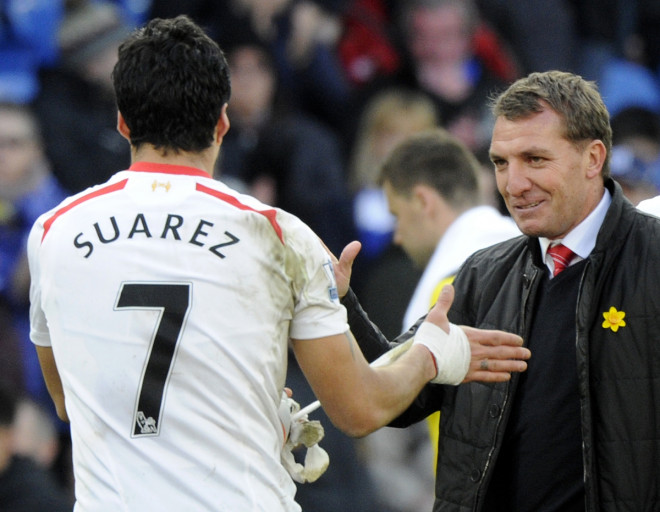 Liverpool manager Brendan Rodgers believes Luis Suarez has significantly improved his attitude both on and off the field.
The Uruguayan international was handed a cumulative 18-match ban for being at the centre of two separate controversies in the last two campaigns.
However this season, Suarez has stolen the headlines by allowing his prolific skills in front of goal do the talking, aiming to help the Reds secure a place in the Champions League next season.
The former Ajax star's is the prime candidate to win the golden boot being the league's top scorer with 28 goals. But that hasn't stopped Suarez from leading the assists chart having contributed 11 assists to his teammates.
Rodgers describes the striker's nature as down-to-earth off the field while insisting that the 27-year-old is a dedicated professional and turns into a warrior while playing.
"I think at this time throughout the country people will be looking at Luis and admiring not only his development on the field - he has become a better player again this season - but also his development off the field," Rodgers told the Liverpool Echo.
"Role models and players with real class are wonderful talents on the field but you normally find they are even better people. That's the one thing people wouldn't really know about Luis. But they are seeing more of a sample of it this year.
"He's very quiet, timid even, off the field. His character and his nature is that of someone who is very focused on his job. But when he crosses the white line he becomes this gladiator on the field," the Northern Irishman added.
Rodgers also hailed the growing partnership of Suarez and Daniel Sturridge insisting that both his strikers not only have the desire to score goals, but also feel the need to help each other and their teammates in finding the net.
The England international is second in the scoring charts with 19 goals, while having garnered four assists less than the Uruguayan so far.
"They've been naturally closer together, while in other games one has been up and one has been wide. What they have is this prolific nature about the two of them that they want to score. For me it's also important they assist each other as well because it's about the team," Rodgers concluded.