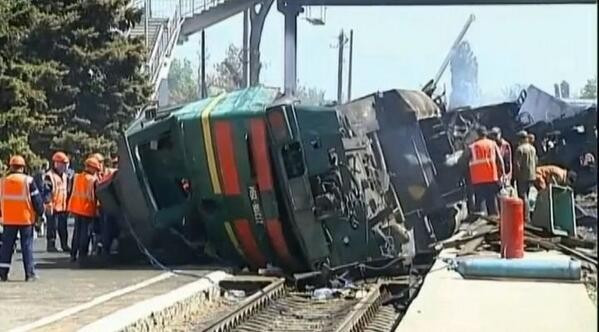 The train crash south of Paris that left six people dead was caused by a fault in the track, France's state rail company SNCF has claimed.
Thirty people were injured, eight of them seriously, after the intercity train derailed at Bretigny-sur-Orge station, ploughing across a crowded platform during rush hour ahead of a national holiday.
The SNCF said its initial findings showed the crash was caused by a metal bar that connected two rails becoming detached.
France's transport minister, Frederic Cuvillier, ruled out human error, praising the train's driver for averting more casualties by pressing an emergency button as the crash happened.
Both the train and the station were crowded with commuters travelling ahead of Sunday's Bastille Day celebrations.
The train was heading for the city of Limoges, in the south-west, when it derailed shortly after leaving Paris-Austerlitz station. Six carriages were derailed during the accident, which happened shortly before 5.15pm local time (3.15pm GMT), with one mounting the station platform.
The SNCF said its initial findings suggested that the derailment was caused by a loose connector at a set of points 200 metres from Bretigny station.
One witness, British student Marvin Khareem Wone, described seeing the train derail from aboard a train on another platform.
"The train went off the railway. It just went on the platform and kind of flew in the air for a second and went upside down," he said.
"The first and the second coach were completely destroyed. I really thought no one could survive that because it was completely mashed up. Everyone was crying and running everywhere. A woman was crying for her daughter who was still on the train."
Transport Minister Cuvillier said the driver's swift reactions had prevented further deaths. "Fortunately, the driver of the locomotive had absolutely extraordinary reflexes in that he sounded the alarm immediately, preventing a collision with another train coming in the opposite direction and which would have hit the derailing carriages within seconds. So it is not a human problem," he told RTL radio.
Some people had attempted to steal victims' belongings shortly after the crash, pretending to be helping with rescue efforts. The thieves later threw stones at emergency workers as they tried to reach the injured, according to local media reports.
The SNCF said 385 passengers were on board when the train crashed, and the station platforms were crowded.