Theresa May reiterated how she would walk away with no Brexit deal from Brussels if it was not good enough, while Jeremy Corbyn was forced to defend his foreign policy and security credentials in a bruising televised question-and-answer session.
In the only televised appearance of the election campaign involving the two main party leaders, Labour leader Corbyn faced tough questions over his past alliances, his meetings with Hamas officials and his refusal to condemn the IRA violence.
The leaders did not face off with each other directly and after facing questions from the audience, the interviewer Jeremy Paxman quizzed Corbyn on what measures he would take to protect the British public, with the Labour leader refusing to say if he would authorise a drone strike to kill a terrorist because he did not want to answer "hypothetical" questions.
"We have to have a foreign policy around the world that doesn't leave large areas without an effective government, which can become a breeding ground of enormous danger," he said.
He was also asked how Labour could be trusted on security when the shadow chancellor, John McDonnell, had called for disarming the police and disbanding MI5. Corbyn replied that the party manifesto called for more police officers.
He said the reason that his beliefs in nuclear disarmament, abolition of the monarchy and nationalisation of banking were not in his manifesto was because he "was not a dictator" and that the party policies reflected wider consensus.
"I would see my responsibility as our prime minister to contribute to a world of peace in the future," he said.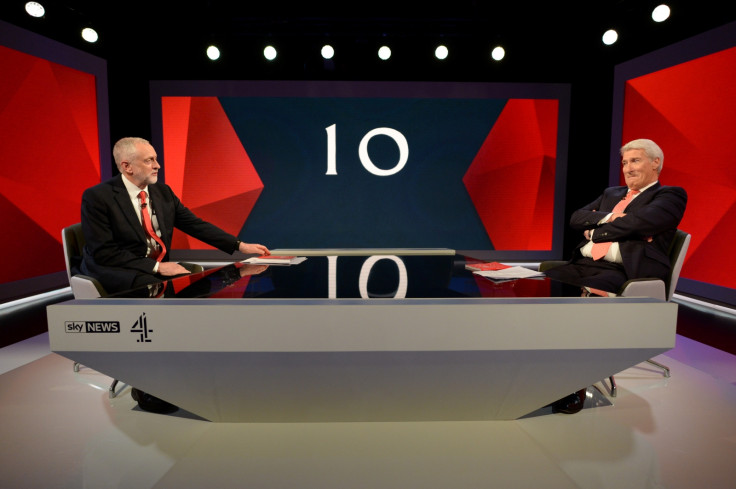 Next, Theresa May faced the grilling from the audience after which Paxman called her a "blowhard who collapses at the first sound of gunfire" over her recent U-turns on the so-called "dementia tax" which makes it hard for elderly Britons to pass on property to their heirs.
Although she would not be drawn on whether she believed Brexit to be a good idea, having herself backed the 'Remain' camp, she said several times that "no deal is better than a bad deal" in negotiations with Brussels, adding that "we are doing the right thing in making a success of Brexit".
The prime minister will try to rejuvenate her campaign on Tuesday (30 May) with promises to woo working class voters who might be siding with UKIP or Labour.
She will hope to put Brexit back on the agenda after the wobbles over social care hampered her campaign in the last week and will say that only she will be able to stand up to Brussels to get the best negotiating position.
She will say that Corbyn "has no plan to deliver Brexit, and he has already admitted he would give control of our borders and control of our laws back to Brussels", according to the Times.
The latest Survation poll shows the Tories have only a six-point lead over Labour, 43% to 37% with the Liberal Democrats on 8% and UKIP on 4%.