Evasive Theresa May dodges Andrew Neil's probes on 'dementia tax' U-turn and tax
The BBC's Andrew Neil is interviewing party leaders ahead of the 8 June General Election.
An evasive Theresa May has repeatedly dodged questions from the BBC's Andrew Neil on issues such as the so-called 'dementia tax', possible tax rises and cuts to the winter fuel allowance.
Neil was quizzing the prime minister in his first in a series of interviews where major party leaders will be questioned ahead of the 8 June General Election.
In her toughest interview of the campaign trail so far May was forced to defend her 'U-turn' on her social care funding proposal, arguing that "nothing has changed" in her plans.
May's original pledge was to 'ring-fence' £100,000 of assets before one has to pay for care, up from £23,250. But the assets will now include the value of their home, meaning thousands of people may be forced into selling off the family home after they die.
But after a backlash that saw Jeremy Corbyn's Labour rise to just single digits behind the Tories in some polls May announced that there will now be a cap on the total care costs anyone must pay in their lifetime.
Neil said that her policies were "uncosted and half-baked" and suggested that she had changed her mind, something she rejected.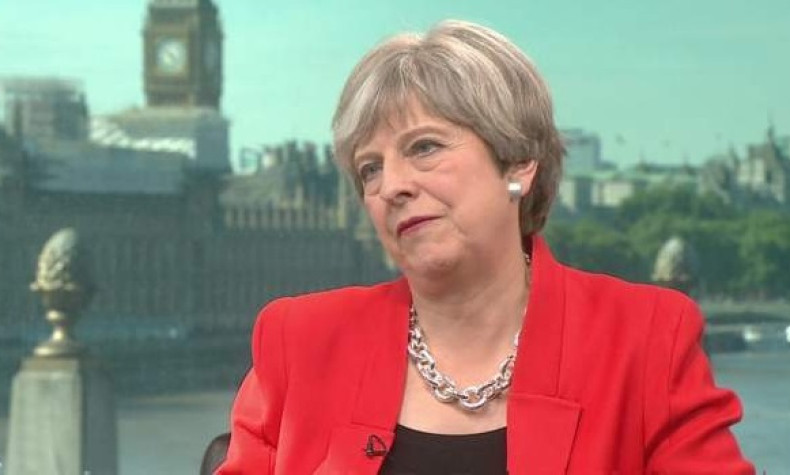 May said: "I'm being absolutely honest with the British people about the big challenge that we face. And absolutely honest with them about the need for us to deal with this now, to start fixing it now.
"Now, what I've put forward is a social care policy which means that people won't have to worry if they're sitting there, you know, month after month worrying about money coming out of their bank accounts to pay for their care and worrying how long that will last.
"They won't have to worry because they won't have to be paying during their lifetime. They won't have to worry that they're going to have to sell their house during their lifetime.
"And they'll be able to pass £100,000 on to their families when they die. At least that's a protected £100,000. What I've done today is I've seen the scaremongering, frankly, that we've seen over the weekend."
May then accused Jeremy Corbyn of scaremongering and making "fake claims" adding that the left-winger wants to "sneak into No. 10 by playing on the fears of older and vulnerable people".
Not giving any clue about a figure on the possible cap, the prime minister affirmed that she will consult with interested bodies at the Green Paper stage of the bill to work out a cap.
Neil also tried to pin her down on the extra £8bn pledge for the NHS earmarked in the manifesto.
"What we have done over the last six years, six-seven years, and what we will do in the future is ensure that we have the strong economy, the growing economy that enables us to generate the funds to put into our public services," said May.
"I've identified in the manifesto some specific areas where we will change the way in which money is being used, and I've just referenced winter fuel."
Neil then told May that her extra cash is "too little too late" after hospitals failed to hit a swathe of targets including cancer treatments and accident and emergency care.
"No. And I accept that the NHS has missed some of its targets, but let's look at – and targets aren't the be all and end all," May said.
"What matters actually is the quality of patient care. And let me just give you an example. You mentioned the emergency, Accident and Emergency targets and yes, we did see pressure on A&E over the winter.
"Now what matters is not that you tick a box on a target. What matters is you say what does that tell us that we need to do. And that's why we've already announced that we're going to make some changes."
May failed to clarify if she will target national insurance or income tax for increases saying that the Conservatives are the party of "lower taxes".
She also did not reveal just how many pensioners will lose their winter fuel allowance once they have been means-tested, saying her government plans to consult the public.