Brexit supporters walk out of George Galloway's speech at Farage's anti-EU rally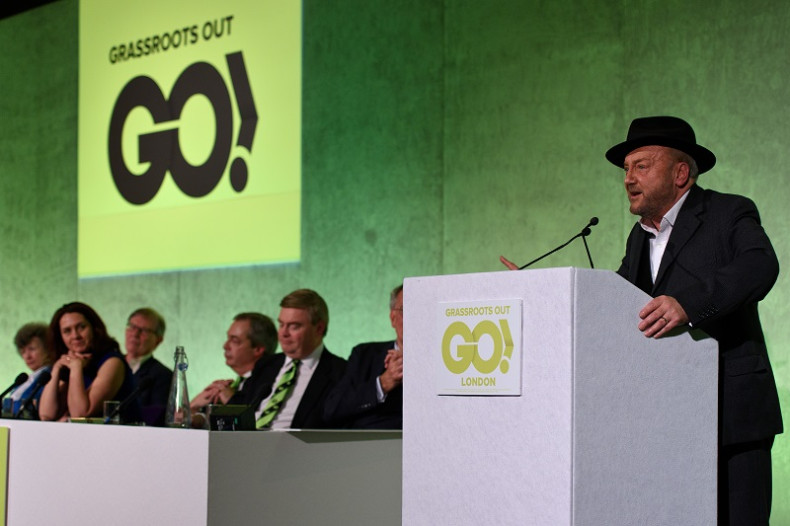 About 1,500 people cheered Nigel Farage on as the Ukip leader dismissed David Cameron's EU renegotiation deal at a pro-Brexit rally in Westminster on Friday, 19 February. The Eurosceptic firebrand sarcastically suggested that the British prime minister should be nominated for an Oscar for "battling for Britain" in Brussels to secure the settlement.
"It does not address the issue that we should not be paying £55m ($79m) a day to a club whose accounts have not been signed off for nearly 20 years," Farage declared. "It does not address the fundamental and number one issue in British politics, which is that we have a total open door to over 500 million people. It doe none of those things."
"The prime minister will tell you that he's won this amazing deal," he added, "that we've been given permission to limit migrant benefits for up to four years.
"Even that deal is no good because the European Parliament have the ability to pull it to pieces and veto it, and any other promise that will be written into a future European treaty can be struck down by the European Court of Justice. Dave's deal is not worth the paper that it's written on."
Galloway called a 'disgrace'
But the real drama of the Grassroots Out (GO) event came when Farage unveiled the group's surprise guest speaker, George Galloway. The Respect leader was heckled by some of the Eurosceptic crowd as he made his way to the podium and one man was reportedly removed from the hall by security after repeatedly shouting at the left-winger.
Dozens of attendees also quickly left the rally once Farage had introduced Galloway. Some of the people said they had trains to catch, but one right-leaning man branded the decision as a "f***ing disgrace" as he briefly spoke to IBTimes UK on his way to the Queen Elizabeth II Conference Centre exit.
Galloway spoke of his "admiration" for Farage when the Mayor of London candidate conducted a video interview with IBTimes UK just days before the GO rally, and the controversial figure said he "couldn't possibly comment" on whether he would speak at the event.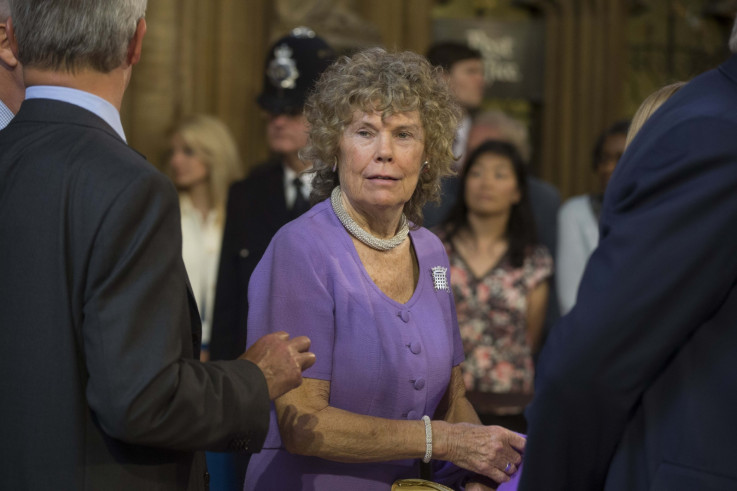 Eurosceptic Labour MP Kate Hoey has joined Tory MPs and Ukip's Douglas Carswell to campaign for a Brexit
Getty
One of the Scot's former colleagues in the Labour party also addressed the London crowd. Kate Hoey, MP for Vauxhall, claimed Labour leader Jeremy Corbyn and shadow chancellor John McDonnell had been "stifled" into backing a pro-EU position by the party "machine".
"I would say to Jeremy and to our party's leadership that around the country there are millions of Labour voters and supporters who have been left without a voice on the most important issue of our lifetime," Hoey argued.
The comments came after the Eurosceptic crowd learnt of some other left-wing related news – that a "big" trade union would be announced as a supporter of GO on 22 February. The RMT and Aslef are currently the only two unions backing a Brexit, while the TUC and GMB are supporting the campaign for the UK to remain in the EU.
---
READ: IBTimes UK's report from the launch event of GO
---
The GO rally was held as EU leaders and top civil servants wrapped-up Cameron's renegotiation in Brussels. The prime minister said the settlement meant Britain would never be part of a "European superstate" and claimed the deal gave the UK a "special status" inside the EU.
But Vote Leave, a group vying with the GO Movement for the Electoral Commission's official Brexit campaign designation, described Cameron's renegotiation as "hollow".
"Crucially, this deal is not legally binding and can be ripped up by EU politicians and unelected EU judges so it will have no more force than an unsigned contract," said Matthew Elliott, the chief executive of Vote Leave. "The only way to get real change is to Vote Leave and take back control – that is the safer choice."
Cameron is presenting the new deal to Cabinet meeting on the morning of Saturday, 20 February. Afterwards he is expected to free Cabinet members to support either the stay or remain campaign and then declare the EU referendum to be 23 June 2016.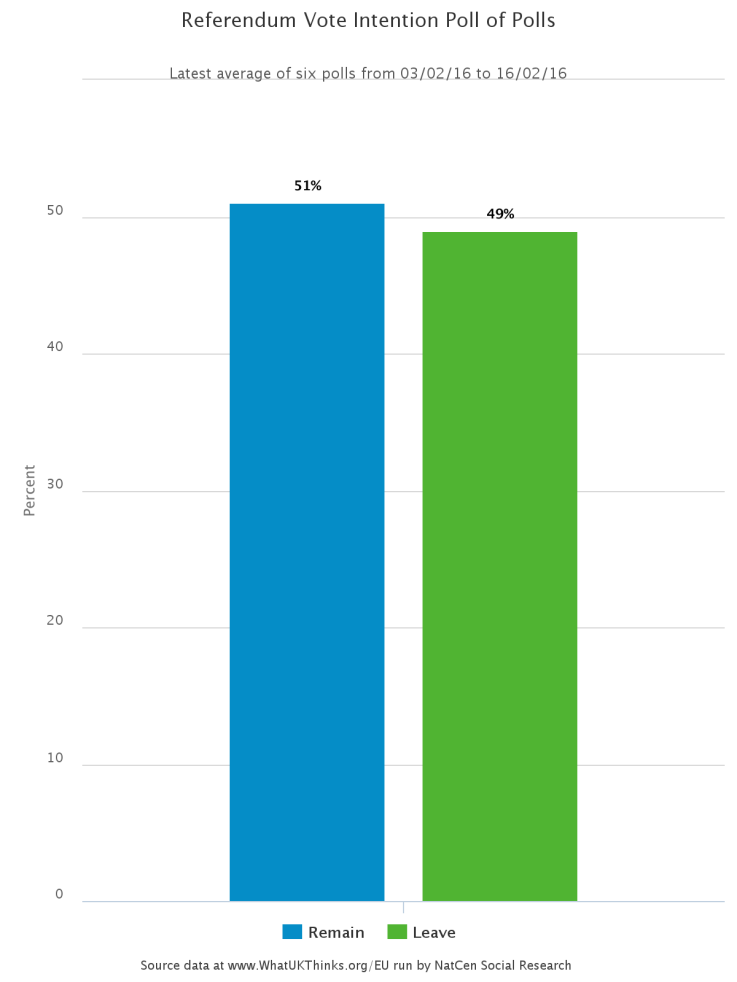 EU referendum poll-of-polls for 20 February 2016
WhatUKThinks.org
The move will enable top Eurosceptic Tories, such as Work and Pensions Secretary Iain Duncan Smith and Justice Secretary Michael Gove, to publicly back a Brexit. The prime minister confirmed that Gove would campaign for a 'leave' vote at the historic ballot after addressing press in Brussels following the EU deal announcement.
Labour's Frank Field, who is also chair of the powerful Work and Pensions Committee, revealed his support for a breakaway from Brussels not long after Cameron's late night speech.
The latest online opinion from TNS, of more than 1,000 people between 11-15 February, gave 'leave' a three point lead over 'remain' (39% versus 36%), while 25% of respondents were undecided. A poll-of-polls created by the independent What UK Thinks group, using data from ICM, YouGov, ComRes, TNS and Ipsos MORI, shows opinion nearly evenly split at 51% in favour of remaining in the EU and 49% against.