Brexit-focused Tory conference bounces party into 17% lead over Labour
ICM says Conservatives' poll lead is the joint second-highest ever recorded.
The Conservatives have been given a 17-point lead over Labour by voters, just days after the party's conference in Birmingham.
The annual summit was dominated by Brexit, with Theresa May's promise to make a success of the UK's split from EU going down well with the electorate.
An ICM poll for The Guardian, of more than 2,000 people between 7 and 9 October, put the Tories on 43% (+2%), while Labour fell to 26% (-2%).
The research also revealed that Ukip had dropped in the polls to 11% (-2%), as the party faces further in-fighting, is without Nigel Farage at the top and as May swallows its grammar schools policy.
If a general election was held tomorrow, the Conservatives would secure a majority of 125 seats and Labour would lose 43 constituencies, according to the Electoral Calculus website (based on draft 2018 boundaries).
ICM's Martin Boon said the Tories' poll lead is the joint second highest ever recorded by his firm.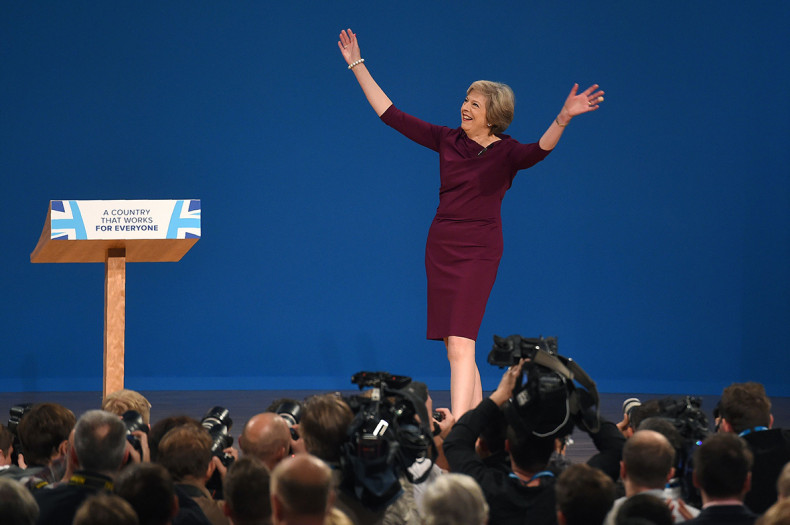 "The Tories 43% is two-points adrift of its highest share ever recorded by ICM (three times after the 1992 election, Jun-08 and Nov-08 plus 44% on three occasions straddling 08-09). We did have them on 43% back in July this year," Boon said.
The survey showed that despite Tim Farron's promise to hold a second referendum to ratify any Brexit deal, the Liberal Democrats fell to 8% (-1%).
But the Greens, who recently elected Caroline Lucas and Jonathan Bartley as co-leaders, saw a slight boost to 6% (+2%).
The data was published as Labour leader Jeremy Corbyn continues his reshuffle. The shake-up, in the wake of the left-winger's re-election, has seen the return of Sir Keir Starmer to the front bench, this time as shadow Brexit secretary. But Rosie Winterton's sacking as chief whip has caused controversy and sparked resignations from two now former whips, Conor McGinn and Holly Lynch.
Meanwhile, Conservative MP Dominic Raab has warned his party not to underestimate Corbyn in the age of anti-establishment politics.
"My overriding feeling is that in this country people are sick and tired of synthetic politics and that maybe explains Corbyn's attraction to the degree that we've seen," he told a Ipsos MORI fringe event at the Tory conference in Birmingham.