Nigel Farage has ruled out once again returning as leader of Ukip following the shock resignation of Diane James after just 18 days in charge. Evans quit as leader, despite only being elected on 16 September, after deciding she didn't have the "sufficient authority" to make the changes she wanted at Ukip.
There are also suggestions that an incident in which she was spat at in the street in London after she was elected, with a landslide 8,451 votes, may have helped her decision to stand down.
Her resignation has thrown Ukip into turmoil as the party must once again elect a new leader. Ukip's ruling National Executive Committee is said to be holding an emergency meeting in the next few days to choose an interim leader and agree a timetable for a second leadership election within weeks.
Farage was quick to dismiss suggestions that he will put himself forward to be party leader again. He was party leader from 2006-2009. He returned in 2010. He quit again after failing to get elected as an MP in South Thanet at the 2015 General Election. His resignation was not accepted by the party but he finally quit on 4 July after the Brexit vote.
Farage said he would not return to the party "for 10 million dollars". When asked if he would do it for 20 million dollars, Farage replied: "No, I'm not coming back, I'm retired." Farage announced his intentions to stand down as leader of Ukip on 4 July having "done his bit" in politics after Britain voted to leave the EU.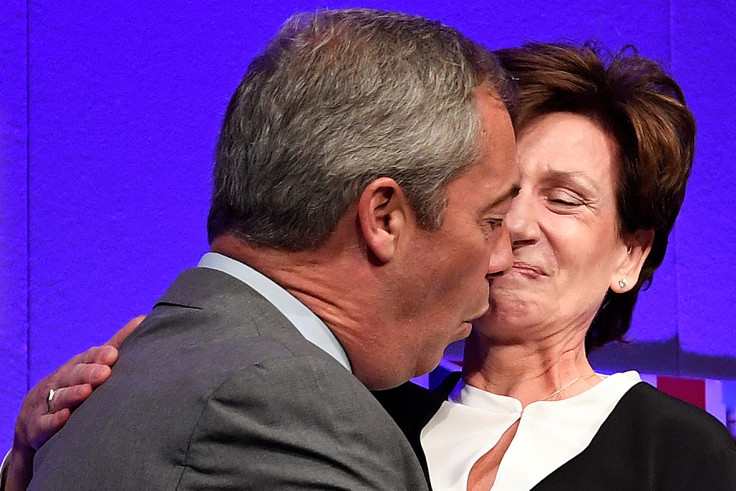 The bookies are naming North-West England MEP Steven Woolfe as the favourite. Woolfe infamously blew his chance at standing in the last leadership election by submitting nomination papers 17 minutes late.
Ukip's former deputy chairman Suzanne Evans could also throw her hat into the ring after she was unable to run in the last election because of a suspension which has now been lifted. Other potential candidates include former Ukip deputy leader Paul Nuttall, Ramsey, Huntingdonshire, councillor Lisa Duffy, and the party's sole MP, Douglas Carswell.
As James did not appoint a deputy, there is no natural choice for who will take over as leader on a temporary basis until a new one is formally elected.
Announcing her decision to step down, James said: "It is with great regret that I announce that I will not be formalising my recent nomination to become the new leader of the party with the electoral commission.
"Having won the enthusiastic support of party members, I was nominated by them as the new leader at the recent Ukip Bournemouth conference.
"Since that time, I have been in discussion with party officers about the role. It has become clear that I do not have sufficient authority, nor the full support of all my MEP colleagues and party officers to implement changes I believe necessary and upon which I based my campaign.
"For personal and professional reasons, therefore, I will not take the electoral process further."
Ukip chairman Paul Oakden added: "It is with regret that I have tonight received confirmation that Diane James has chosen to resign as party leader, citing personal and other reasons. I will now look to convene an emergency meeting of our NEC to confirm the process for electing Diane's replacement.
"Whilst the decision is unfortunate, it is one that Diane is entitled to make. We thank her for all her work as leader, and as a hard-working MEP, a role she will continue with her customary vigour."
James came to prominence after almost winning 2013's Eastleigh by-election, receiving 27.8% of the vote, putting the Tory party's Maria Hutchings into an embarrassing third place. She stood down from her bid to become MP for North West Hampshire during the 2015 general election for personal reasons.