Most Britons would now rather see Theresa May call for a second Brexit referendum rather than leaving the European Union without a trade deal, it has emerged.
According to a BMG poll released overnight, 57% of British voters would opt for another vote if it became apparent that the prime minister could not secure a favourable deal for Britain.
The percentage is even higher among young voters, with 73% between the ages of 18 and 34 backing the option of a second referendum.
Labour voters were by far the most vocal supporters of a second referendum, with 74% of those surveyed suggesting Britain should go back to the polls, instead of settling for a no-deal scenario.
However, the party has so far refused to back calls for another referendum.
"We are not supporting or calling for a second referendum," Labour leader Jeremy Corbyn told ITV on Sunday (14 January).
Shadow Brexit secretary Keir Starmer told fellow Labour MPs on Monday that the party should not "look back in grief" at the vote.
"It is a really important distinction: Are we looking back in grief or looking forward to the challenge of the future," he said.
The findings of the poll could pile further pressure on the PM, who has repeatedly stated that "no deal is better than a bad deal". The BMG survey came a week after a Comres poll for the Daily Mirror found that 55% of voters would now support Remain, with 45% backing Leave in a second referendum.
Earlier this week, it emerged that staunch Brexiter Boris Johnson would rather see Britain remain part of the EU than accept a soft Brexit.
The foreign secretary reportedly told friends that any outcome that would see Britain outside the bloc but still closely aligned to it would be a "total waste of time".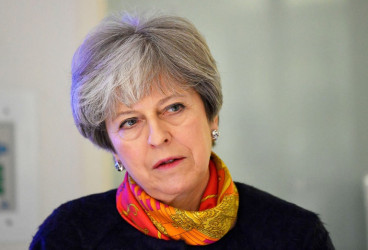 "I'd rather us stay in than leave like that," Johnson is reported to have said, according to the Sun. He claimed that any scenario that would see the UK having to accept directions from Brussels would leave Britain as "just another Norway".
Norway is not a member of the bloc but retains access to the Single Market in exchange for accepting a number of EU rules and regulations, including those on freedom of movement.
Johnson also reportedly expressed fears that May would be "worn down" by civil servants and forced to accept a bad Brexit deal.
Remain making all the running
Johnson's comments came just a day after Nigel Farage told the Observer that Leave campaigners were in danger of losing the argument on Brexit as pro-EU supporters were back in pole position.
"The Remain side are making all the running," he said.
"They have a majority in parliament, and unless we get ourselves organised we could lose the historic victory that was Brexit.
"The Leave side is in danger of not even making the argument. The Leave groups need to regather and regroup because Remain is making all the arguments.
"After we won the referendum, we closed the doors and stopped making the argument."